Review of Intuit Project Management QuickBase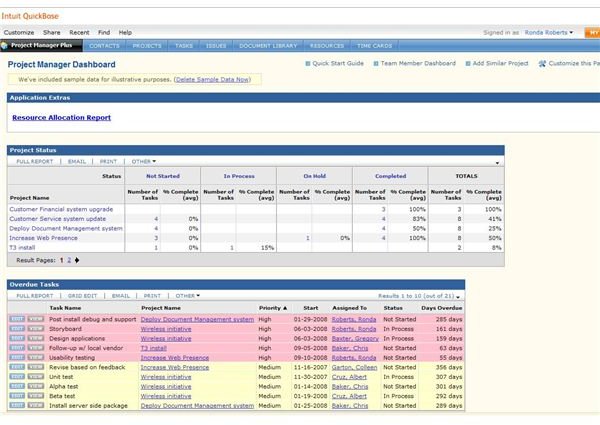 What is QuickBase?
QuickBase is a user-customizable software available on-demand through Intuit.This program allows the user to customize the database to fit their company needs.Project management options available with this software include:
Project Manager
Project Manager Plus
Project Manager Plus (Microsoft Project® Starter)
Your own custom Project Manager put together with the application features you require
A subscription to this program costs $249 per month for up to ten users, $500 a month for up to 100 users, $1,500 a month for up to 500 users and $5,000 a month for up to 2000 users.There are options allowing companies to pay per year for usage of this software – but unfortunately there is no discount for a yearlong subscription.
What does QuickBase do?
QuickBase promises to be an easy-to-use, customizable project management tool. I will touch upon each of the built-in project management applications and their functionality. Note, that there are many customizable options available with this software and you can utilize user-created applications as well.
Project Manager allows the user to:
Organize and track progress of projects
Perform task delegation
Keep an eye on upcoming deadlines
Communicate efficiently with team members
Track task-dependencies
Create project reports
Project Manager Plus allows the user to do everything Project Manager allows and
Keep track of resources and contact information
Perform a report on resource allocation
Track and store project documents with the tasks they are related to
Track time
Keep track of important client details
Project Manager Plus (Microsoft Project® Starter) allows users to do all the above and use Microsoft Project as well, integrating seamlessly with the already familiar Microsoft Project and allowing users to take advantage of the flexible customizable options.
Customizable options for Quick Base include: Sales Management capabilities, Customer Service functions, Marketing functions and more. You can even create your own database from scratch. This capability makes Intuit QuickBase one of the most flexible options available for project management.
Is QuickBase for You?
The fact that QuickBase is customizable is a big selling point on this program. You can conduct almost all of your business utilizing this program. The program offers technical support and promises ease of use. However, in order to keep QuickBase from being too good to be true, the pricing creates a problem for many small and start up businesses that would otherwise be interested in utilizing the program for their business management needs. This set aside, if you have the resources to use QuickBase, it is a great program, easy to learn and easy to customize. For more on-demand project management software options, see Cary Stuart's article, "The 3 Best Online Project Management Utilities."
Screenshots