Review of ScrumEdge - Online Collaborative Tool for Scrum Teams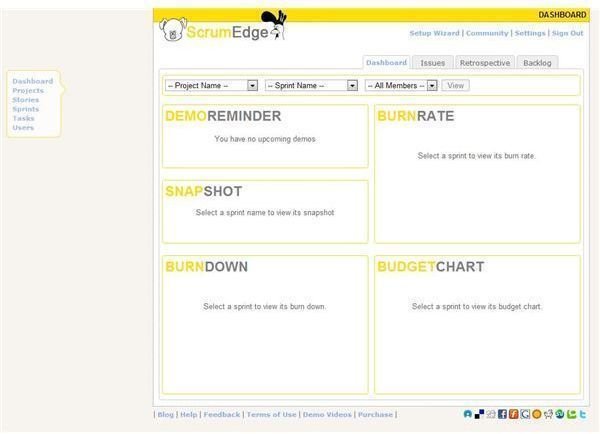 What is ScrumEdge?
ScrumEdge is an online project management software. The program is collaborative, meaning that everyone involved in a project from ScrumMasters to team members and stakeholders is able to manage the project life cycle through the program. The developers of ScrumEdge claim that "you'll no longer need to deal with shared excel-sheets or walls covered in post-its!"
The program allows you to track the sprint backlog, sprint log, sprints, stories, and tasks. The question arises, then, "Is this the software for my company?" Below you will find ratings on price, features, ease of use, and support to help you make this decision.
Price (4 out of 5)
ScrumEdge is free for up to five users. ScrumManagers register for the program and then can add each user individually. After five users, you can pay $50 per user to add further users. Because of its low pricing, it makes ScrumEdge a valuable choice for small companies that use the scrum methodologies and want a project management software program.
Features (3 out of 5)
ScrumEdge has a menu on the left with six options:
Dashboard - view the project at a glance

Projects - add and edit projects, add to the sprint backlog and sprint log

Stories - a backlog of work, written from the perspective of the end-user

Sprints - track the 30 day focussed efforts towards getting work done

Tasks - track action items

Users - add team members and their roles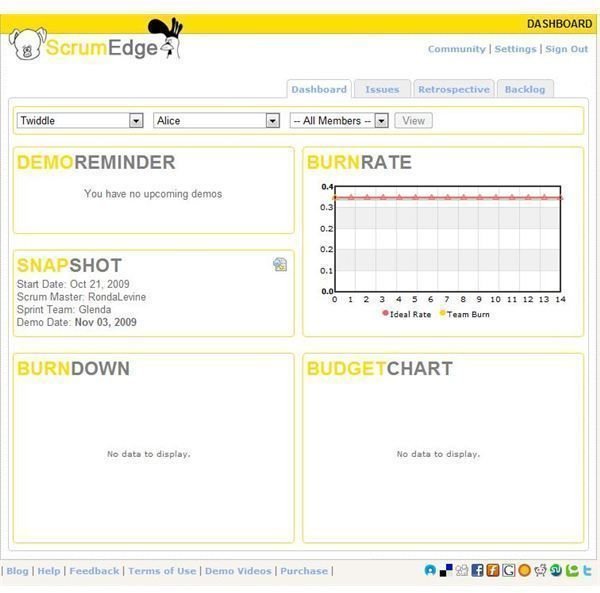 Also included as a menu item along the top is a Setup Wizard. When you are starting out with this software, it may be beneficial to use this wizard to add the users, project, stories, and sprints that will take place (or, if you are just coming to the software mid-project, to add the items that are taking place.) Once you've added these items, you can add tasks.
Each user, when registered, will require an email address and a role assigned. Once users are assigned the role of "team member" or of "stakeholder" they can then sign in to their own pages. Stakeholders' menus allow them to view the dashboard (depicted on the left), issues, retrospective, and the backlog. The backlog depicts the tasks that must be completed. Team Members' menus also feature issues, retrospective and backlog plus the sprint log.
Ease of Use (3 out of 5)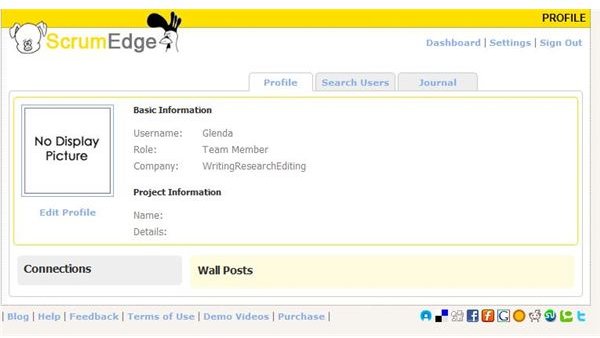 ScrumEdge takes some getting used to. The program seems like it is easy to use at first glance, but users do need to tinker around with it and play with its features or read the help file on the website to learn its ins and outs. Once you have spent some time with it, then the program is easy to use. Probably the most facilitating part of this program is the fact that all users can work together, and that stakeholders can view what is going on with the project at any point in time, keeping them well-informed.
Support (3 out of 5)
ScrumEdge features a help page that answers your frequently asked questions about the program. In addition, demo videos are available that depict the program in action. Finally, the program also has a blog supporting the software further. If none of these venues help you to answer your question, you can click on the "Feedback" link on the website to find out how to solve your ScrumEdge problem. Most topics, however, are covered either on the blog, in the video, or by the help page.
Is ScrumEdge for You?
ScrumEdge might be for you if you use the Scrum project management methodology already and are familiar and comfortable with the scrum process. The program is well suited for small and startup businesses wishing to use agile project management methodologies as well as those who are established. Finally, the program is good for those who want software that isn't as complex as MS Project and its alternatives, but also don't want anything too simplistic.
This article has been placed in our archives.