Review of Projecturf: A Versatile Project Management Web-Based Option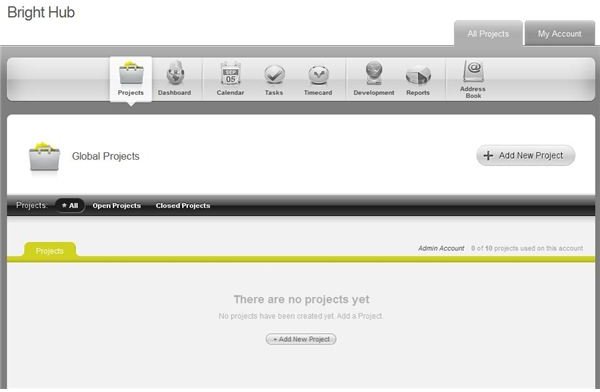 What Is It?
When preparing for the Projecturf review, I had the opportunity to speak with developer Chuck Pearson about his project. Projecturf 2.0, the version reviewed here, is the baby of Pearson, who needed a project management solution for his design agency. It was originally developed for the agency, but after many clients had complimented Pearson on his software, version one was released. The idea behind Projecturf 2.0 is the abiltiy to do things quickly and easy. Pearson did not enjoy MS Project because the program had more than what his design firm needed in terms of project management, and he found that the interface was fairly clunky. He said "Let's design something intuitive, easy to use, and that looks good - because it's a reflection of your business." That's something that is especially important for a design firm!
Projecturf is on-demand, which means its a project management software application delivered to clients over the internet through a subscription service. The program has a calendar, task capabilities, timecard, documents, discussions, development, whiteboards and reports capabilities. The software aims to create a streamlined workflow, making it so that every member of the project team and every stakeholder is empowered and working efficiently. Find out whether the program is for you in this Projecturf review.
Installation and Setup (5 out of 5)
Because Projecturf is delivered as an on-demand project management software solution, installation and setup are really easy. Also, because the program is provided through the Internet, project managers will find that it doesn't slow down their computers due to large memory requirements. To set up Projecturf, go to the website and subscribe or sign up for a trial version. Once you have signed up for the program, you will have access to all of Projecturf's features.
User Interface (5 out of 5)

Getting up and started using this software is easy. The user interface is graphical in nature and easy to navigate. The program, upon opening, features a ribbon with the following global tabs:
Projects
Dashboard
Calendar
Tasks
Timecard
Development
Reports
Address Book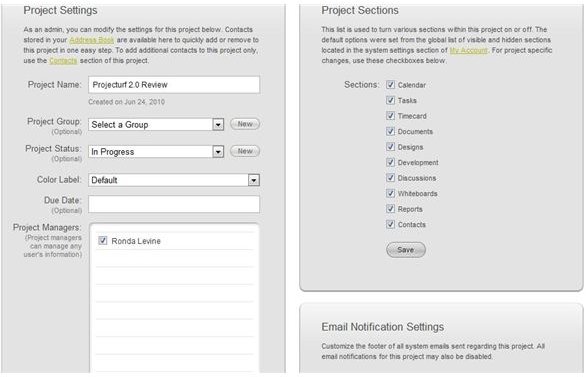 By clicking on any of these master-tabs, you can view all information for all projects at a glance. If you want to go into a single project, click on your "Projects" button, then open the project. In this view, you will be able to view the project brief, and any notes that your team has made on the project. You can subscribe to an RSS feed for the project, which makes it easy for project team members to monitor progress. Tracking time is also easy with a time tracker feature and the ability to customize your time entries. Finally, with its graphical interface, Projecturf 2.0 looks great. In all, Projecturf 2.0 is very user-friendly, and its user interface is very attractive.
Features (4 out of 5)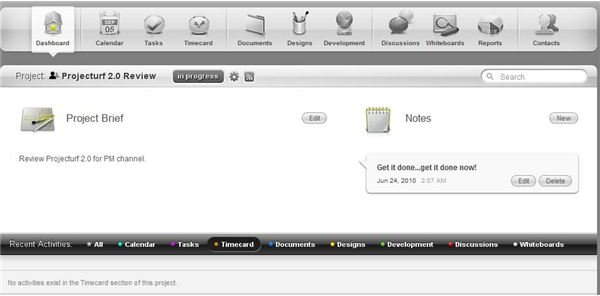 Projecturf is packed with a variety of features, and the app is constantly upgraded with new features. However, for most small businesses, freelancers, and mid-sized businesses, the following list of features will be more than sufficient.
As mentioned above, you will have the ability to view all activity by individual project, or globally.

For each project, you will have the ability to select just the features you will need for that project.

You have the ability to track multiple calendars for multiple projects.

When assigning a resource for a project task, you can view what other projects or tasks he or she is working on in the task/calendar item creation screen.

The timecard tracks your time and allows you to add entries specific to the project being worked on.

You can upload documents to be shared by all members of the project with no size restrictions.

You can add as many users as necessary to the project.

You can upload designs to the project - an excellent feature for designers and engineers.

You can export project data once every 72 hours.

Because the program is on-demand, there are many great security benefits.

Send email notifications when tasks and calendar items are added.

Add screenshots of progress on software development projects and bookmarks of web-development projects.

Engage clients and other stakeholders in discussions about the projects you work on.

Create a whiteboard for brainstorming sessions and instant communication about project points.

Track your contacts.
Projecturf 2.0 offers a great variety of options for customization - such as personal logo inclusion, color selection, and personalized URL capabiltiies. In all, the features are outstanding for those needing project management capabilities without needing great detail.
Price to Value (4 out of 5)
After a 14-day trial, you will have to subscribe to a plan. There are four different levels for subscription:
Individual plan - allowing 1 project, unlimited users, all features, security and back ups, 50 mb file size limits, and 2 GB of storage space - for $9.99 a month. (This is the only option that has a limit on storage space.)
Start-up plan - 10 active projects, 100MB file size limit, unlimited users and storage space, full features - for $34.99 a month.
Business Plan - 30 active projects, 250MB file size limit, unlimited users and storage space, full features - for $69.99 a month.
Enterprise Plan - 150 active projects, 500MB file size limit, unlimited users and storage space, full features and priority support - $169.99 a month.
Personally, I find the pricing of Projecturf to be a little expensive at first glance, but when you compare the fact that competing, but less expensive programs such as Central Desktop and Ubidesk limit the number of users, projects, and storage space at each level, it is a very good deal. You wind up paying less for more. For example, if you do not manage many projects, but you have a team of 50, you would have to purchase a higher-priced subscription of a competing program to ensure that all stakeholders and team members would have access to the software. Moreover, if you have many files to upload, but only a few users, you may get stuck paying for a higher plan on other programs - and you still might not get all the features you need. The appeal of Projecturf for someone coming into on-demand software will be the ability to have unlimited users and storage space, with pricing based upon how many projects you need to manage concurrently.
User Support (5 out of 5)
There is plentiful user support available for users of Projecturf. There's a FAQ page, direct contact options, a blog, and a suggestions forum (where users can vote on features they would like in future updates). There are also videos, and the ability to receive priority support in the enterprise plan. Don't let "priority" support fool you, though. The creators of Projecturf are very involved with customer interactions. They want to make sure that all their customers are happy with the software.
Is It For You?
Projecturf 2.0 is an excellent project management software option for small to mid-sized graphic design companies. It's also a great option for web designers, freelancers and consultants, and others who need project management software but also need their software to integrate with clients (and with unlimited users, Projecturf 2.0 is great for this). While Projecturf might not be for all companies (especially those needing Gantt Charts), it is a great resource for those who need to track project progress and collaborate on projects. The software will help users to easily manage projects and communicate with all stakeholders.
You can explore the Projecturf website here and also look for upgrades in the latest version, Projecturf 3.3.0.
Image Credit: Screenshots courtesy of Ronda Bowen, taken in Projecturf 2.0 Demo.