Use This Excel Project Budget Template to Simplify Your Next Project's Budget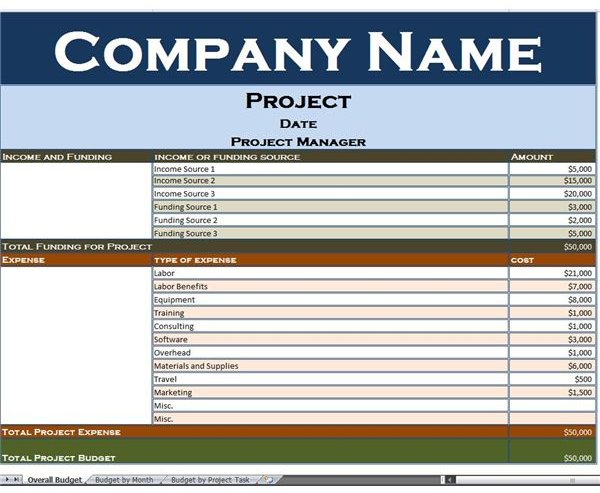 Is Your Budget Out of Control?
Using Excel to create a project budget can be a time-consuming task. Thankfully, we've created an Excel project budget template (click the link to download) that can help speed up your workflow. When you use a template for creating a budget, you will be less likely to forget about the important items that should be included in your project budget. Moreover, by using a template, you can have your calculations already set up for you, so that all you will need to do is input the information that applies to your specific project budget needs, double check your information, save, and then print or email the project budget to the relevant stakeholders. The Excel project budget template above has three different pages:
An Overall Project Budget Page - accounting for all income and expenses that might be associated with your project
A Monthly Project Budget Page - accounts for expenses, broken down by month, associated with various categories
A Task Project Budget Page - breaks down your budget by task and category associated with task
You will notice that an additional line has been added to the task budget page dealing with budgeting for risk in your project. It is important, when determining an accurate budget for your project to keep a risk reserve, just in case things go wrong or your project goes over its original schedule. Find out more about each template below.
The Overall Project Budget Page
The overall budget page for your project contains both income and expense categories. It is important when creating a project budget to take into account all sources of funding your project - both actual and potential before worrying about the cost of your expenses. The reason for this is that you do not want to exceed your potential funding and income levels! Recall that one of the possible reasons that projects fail is that they do not take into account a realistic budget, thus, be sure to account for all venues for financing. You will notice on this template page that there are different categories for expenses, but that there is not an itemized list for each category. This page is meant to be a summary, putting together the totals for each category of expenses over the duration of the project. If you do not have expenses in some categories, you can either enter in a zero-figure, or you can simply delete them. Likewise, feel free to substitute categories of expenses that your team will be using for your project. Be sure to take in every potential expense - including food if your team orders in for working lunches! You will notice that a risk reserve is not included in this template, feel free to add this as a category, or add on a percentage under each category to take into account your risk reserve. When you subtract your expenses from your expected income and funding total, you should be at a zero dollar amount - meaning that every dollar you expect to receive for your project has been allocated.
The Monthly Project Budget Page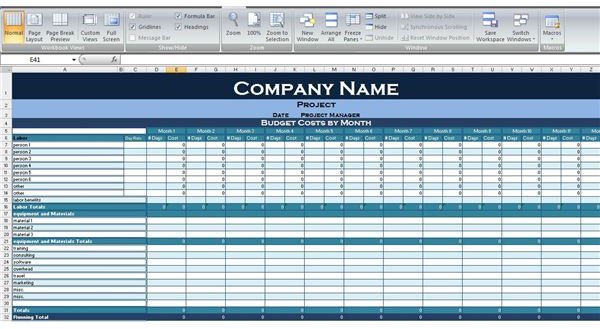 Monthly Project Budget Page
The monthly project budget page is a much more highly detailed look at your project budget expenses. You will notice on this page of the Excel project budget template that labor costs have been broken down into the individual employees, and that employee rates are given. If you enter in each employee's day rate, and then how many days you expect to utilize the employee for a given month, you will see that the total cost for that employee is automatically generated.This makes it easier to budget for labor costs. For example, if you know you have a set amount of $50,000 to use on labor from your income/funding sources, then you will be able to determine exactly how often you can utilize each resource for your project. You will, like with the budget overview page, want to account for risk in some way in your budget here. You can easily do this by inserting a line into the template page, and budgeting a certain amount of funds for each month's risk reserve. Alternatively, you can add a percentage of overage for each category each month to account for risk.
The Project Budget by Task Page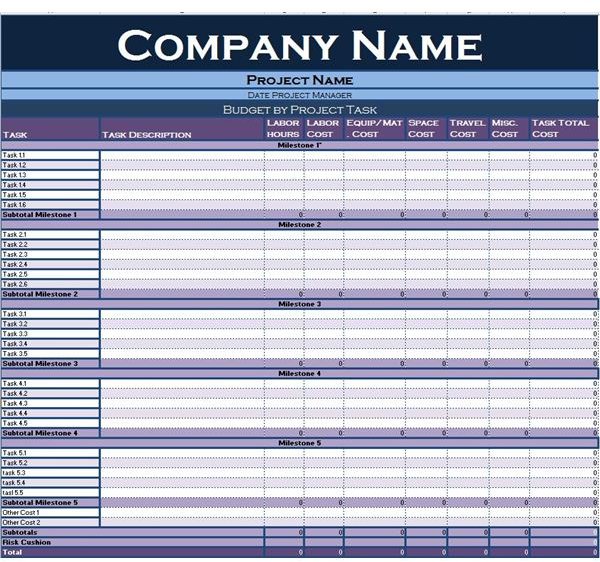 Project Budget by Task Page
Finally, the project budget by task page can be easily based off of your WBS (Work Breakdown Structure). You can input the information using the same numbering you used when you created your work breakdown structure. Alternatively, you can list by milestone, by project life-cycle phase, or by team. Feel free to add additional categories across the top should you need to account for them. By using templates to complete your project budget, you can be sure that you have an accurate picture of what your expenses (and thus your required income and funding) will be for your new project undertaking. Make your next project planning session a little easier by using our helpful Excel project budget template. Image Credits: Screenshots all courtesy of Ronda Levine from self-created template using MS Excel 2007.