Free PDCA Template to Help You in Your Next Project Management Endeavor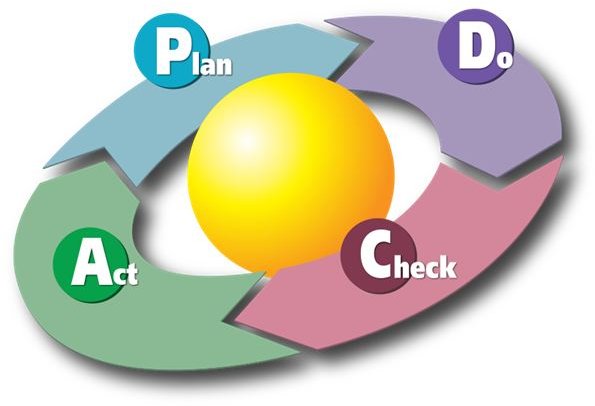 Plan Do Check Act Template
[caption id="" align="aligncenter" width="600"]
Plan-Do-Check-Act (PDCA) is a methodology for improving quality. Also known as a Deming Cycle, Shewhard cycle, or Plan-Do-Study-Act, the PDCA cycle is quite helpful in simplifying the stages of any quality improvement project. Whether your company is undertaking a quality improvement project, or your company simply likes the simplicity of the PDCA cycle, you may find the use of a PDCA Template to be helpful - you can download it here. While the Microsoft Word PDCA template I have created for your use does not look like the diagram above, it can help you plan for your next quality improvement endeavor. If you need help learning how to use this template to your benefit, read on.
The Planning Phase
When you are planning a PDCA project, you will need to be sure that you account for a variety of factors. First, you and your stakeholders need to be clear about the background of the project. You will see that the first section of the template includes a section for you to type in the project's background, scope, etc. You can think of project scope as the boundaries that separate the project from other types of work in your company. Your project's scope statement will be only what your project covers and nothing else. For example, if your quality improvement project is to revamp your company's website, then your project's scope is only the revamping of your company's website and nothing else. The background will cover why the website needs to be revamped and why you've chosen the particular method for revamping. You'll also want to make note of the methodology and focus. Are you trying to make your company's website more user-friendly? Are you adding a blog? What is the focus of the current undertaking? Who will be responsible for the project? Make sure that when planning you designate who is going to be responsible for the project and how they will carry out their duties.
The Doing Phase
The doing phase is covered in the template by your insertion of your project schedule. That's it. Your employees and team members will implement your plan on a trial basis.
The Checking Phase
In your PDCA template, you will notice a section called "metrics" and a section called "evaluation." During your planning phase, you're going to want to establish metrics for measuring your efforts. There are many quality improvement tools that can help you establish a system of measurement for your quality improvement project. During the checking phase, you will be collecting data through the pre-established metrics and evaluating data to ensure that you're on track. In the evaluation section of the template you will record how you plan to analyze the data involved in your project. Should your initial implementation not work, what's the next step? Be sure you delineate every aspect of the project during the planning phase, so that when you come to the checking phase, you will be able to know exactly what the next course of action will be based upon the collected data.
The Acting Phase
Finally, like the "doing phase" the acting phase requires that your team members take action should your checking phase find that the doing phase did not provide desired results. If the test implementation did work, then you will implement the plan on a larger scale, check, and then adjust again. Remember that PDCA is a cycle. This means that even if everything goes as planned, you will begin again, either on a grander scale or with a different quality improvement project. If you're looking for more sample forms and downloadable templates, check out Bright Hub's resource guide Over 50 Free Project Management Templates and Sample Forms. Image from Wikimedia Commons