Lean Six Sigma Gantt Chart Examples from Various Software Applications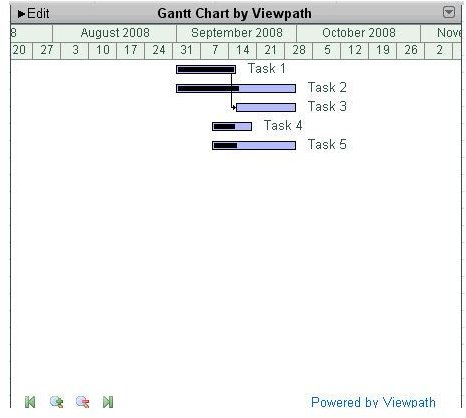 Gantt Chart Background
One of the most popular tools used in the Lean Six Sigma methodology is the Gantt chart.If you're not familiar with the history and usage of the Gantt chart or if you'd just like a refresher course, check out the article What is a Gantt Chart? by Lucinda Watrous.For more information about Lean Six Sigma in general, see the overview and list of resources available at Iowa State's Lean Six Sigma site.
There are a number of software products that can be used to create a Gantt chart. Most project managers should have access to one of the applications listed in the next section.
Sample Lean Six Sigma Gantt Charts
Microsoft Office Project 2007 – One of the biggest names in project management software is Microsoft Project. If you have access to this software package and want to take a look at a guide on how it can be utilized to create a Gantt chart, read over this tutorial.
Microsoft Excel – Microsoft Excel is one of the most common software applications found on office computers. As such, many people are familiar with the interface and prefer to create their charts and tables within this setting. Take a look at the article How to Make a Gantt Chart in Excel for a step-by-step guide on creating your own customized Gantt chart using this application. In addition, check out the Sample Excel Gantt Chart in the Bright Hub Project Management Media Gallery.
Microsoft PowerPoint – In addition to using a Gantt chart for your own time management purposes and sharing the chart with others via email, sometimes you'll need to include the information in a presentation. In the article How to Make a Gantt Chart in PowerPoint, Eric Stallsworth covers some ways you can create a Gantt chart directly within PowerPoint. A sample of such a Gantt Chart developed in PowerPoint is included in the Media Gallery.
**
Google Spreadsheets – If you're looking for a free software solution for creating Gantt charts, Viewpath has developed a great gadget that you can use with Google Spreadsheets. To give you an idea of what the finished product would look like using this method of creation, an example has been added to the Project Management Media Gallery.
If you need some additional help using this tool, check out this tutorial on creating a Gantt chart in Google Spreadsheets that includes step-by-step instructions complete with screenshots.
This post is part of the series: Six Sigma Templates
Six Sigma has gained in popularity recently as a go to process of choice for many project managers.