Learn about Web Time Sheet: Project and Billing Edition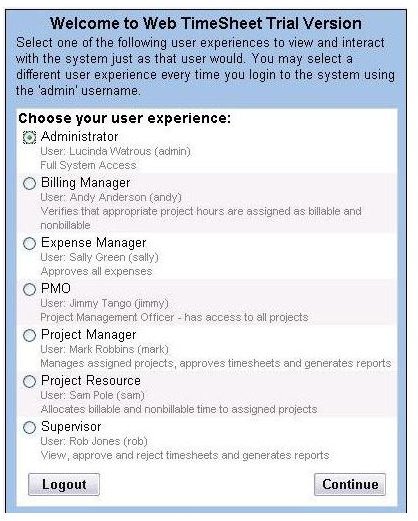 Price (3 out of 5)
Depending on the number of users, and whether or not your company will host the program on their servers, pricing options are as follows:
Replicon hosts the program: $12/user/month 12 month minimum–$144 for one user to $720 for 5 users.
Self hosted program: $159 per user with a required $159 12 month maintenance fee, 5 users runs $954.
By using the Replicon hosted program, companies spend $144/person per year, and avoid a maintenance fee. Using the program more than one year makes the self hosted option worth it.
Add-on features are available at an additional cost, and this program does not track employee attendance–only project based material. If you need this, you'll have to purchase their other program along side Time Sheet, at $8/user/month–with a bundled discount of $300.
A 30-day free trial of the program is available at: Web Time Sheet.
Features (5 out of 5)
When using the trial version of the program, choose the view you want to experience. For the purpose of this review, we'll be working with the admin experience. A screen shot of possibilities is to the right.
Easily add, track, and edit users.
Easily add, track, and edit projects.
Easily add, track, and edit expenses.
Help screen and settings screen enables ease of use and user control.
Completely web based program.
Monitor productivity and goals with a simple click and glance.
Choose to have the company host it, or host it yourself.
Ease of Use (5 out of 5)
When logging into the program, you will quickly be able to tell where everything is, and how you should begin. From the System section: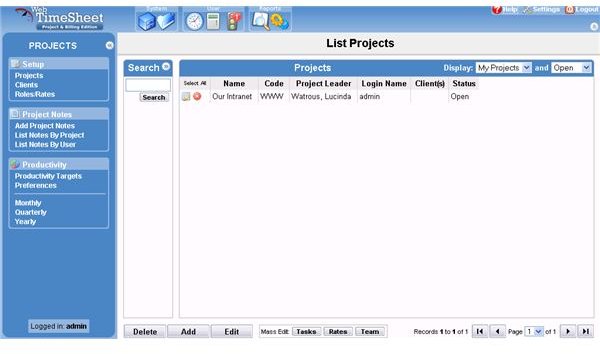 The Setup section allows the administrator to input all project data, client data, along with roles and rates. It will also allow you to put in all company and user information.
The Project Notes section allows users to leave notes for projects, and sort those notes by project or by the user who left them.
The Productivity section allows the administrator to mark the productivity goals and monitor them on a montlhy, quarterly, or annual basis.
From the User section you'll be able to track and approve or disprove any expenses users have requested to have associated with particular projects.
From the Reports section, the administrator will be able to generate and print a number of reports based on the data tracked by the program. Examples: Project Raw Data, Expensse Raw Data, and User Raw Data.
Everything is very clear cut. There is a visible help button, along with a visible manner to change the settings of the program.
Support (5 out of 5)
If there are any problems with Web Time Sheet: Project and Billing Edition, there are support telephone numbers available for anyone who wishes to speak with a customer service representative. There is an integrated help system from within the web window running the program, and because it is web based rather than application based, the computer system being used is not so much of a concern–all that is needed is a steady internet connection.
When a trial is requested, a sales representative will contact you via email in order to determine how to make sure the software will serve you best. The contact is helpful and more than many companies provide.
This post is part of the series: Internet Time Tracker Software Series
Take a look at Internet Time Tracker software reviews to find the best software for you and your needs.