Learn about Visual TimeAnalyzer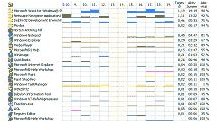 Price (5 out of 5)
Visual TimeAnalyzer is not a web based program, but the cost is still much cheaper than the two previous programs in our series. There are different pricing tiers based on the number of user licenses needed, as follows:
One user: $39
10 users: $199
25 users: $399
50 users: $699
A 30 day trial is available from the Neuber website.
Features (3 out of 5)
User supervision: Working time overview, compliance of the pause time.
Computer supervision: activities at families PC or in companies network
License control: Which software is used actually and how often.
Internet use: Control of the online time and the visited web pages.
Project overview: How much time was needed for which activities.
This information comes directly from the programs help information which comes onto the screen the first time it is used after the installation.
Ease of Use (5 out of 5)
No files are copied to your Windows or system folders during installation. This is a timesaver for many people and ensures complete safety of the program. To install the program, simply download the file, double click the installation file and follow the on screen instructions. The process is very simple.
The program works in the background to track time spent in various programs, the internet, and more. It works as an effective project management and productivity control program to ensure employees are working on their assignments as instructed. In a personal setting, it works great to monitor the time children spend on the computer, and to control what they can use.
This screen shot, from Nueber, shows the "History and intensity of program usage" which is an ideal report to monitor for projects.
Though the computer does monitor in the background, privacy is still maintained because no keystrokes or passwords are recorded.
Support (3 out of 5)
The newest version, 1.4, is compatible up to Windows XP as is. If the program is needed for Windows Vista, an additional file, Microsoft WinHlp32 is needed. 3MB of free disk space is required to run the program. If there are any problems with the program, you can email or write customer support.
This post is part of the series: Internet Time Tracker Software Series
Take a look at Internet Time Tracker software reviews to find the best software for you and your needs.