Learn about DOVICO Timesheet™ to decide if it's right for you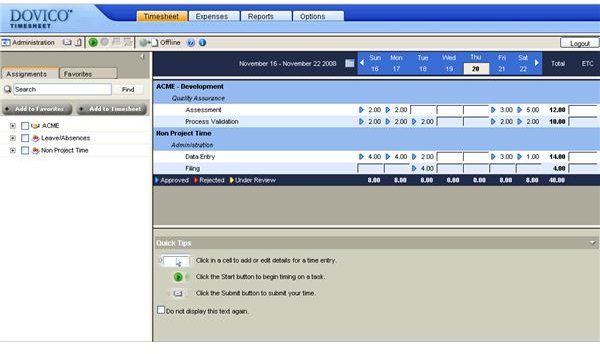 Price (5 out of 5)
To use DOVICO Timesheet™ each user must have his or her own license, which currently cost $156 each, unless 100 or more are being purchased, in which case the price goes down to $117 per user. This licensing fee includes the optional maintenance plan offered by the company. In choosing not to take on the maintenance plan, the fee goes to $130 per license, and $97.50 per license over 100.
Companies may choose to run an online version of the program or to download and install to their systems. Employee training workshops are available for an additional fee. To get a 30-day trial of the program, visit the website and fill in the required information. When compared to other programs in this series, you get a great deal because you have to purchase two separate programs and pay additional fees in order to get all the features and functionality of DOVICO's program.
Features (5 out of 5)
This program has many features which make it a great program for many project managers.
Integration with Microsoft Project
Integration with Microsoft Project Server
Integration with Quickbooks
Integration with Excel and other programs.
Offline Timesheets
Import-Export Tool
Job Scheduler
All of these features will make your job as a project manager or person working on a project a bit easier. More information on Microsoft Project is available on the Project Management Channel.
Ease of Use (5 out of 5)
The program is fairly simple to use, with tabbed menus to help users navigate the program. Take a look at this screen shot to see the main screen.
The administration button will take you to a screen where you can enter information on the projects, users, and budgets.
The Quick Assign feature will make things easier as users can pick a task from the list, and pick a user to give it to. All this can be accomplished in less than a few minutes with just a few simple clicks of the mouse.
You'll be able to track budgeting and productivity from within the program once everything gets setup. Everything is straight forward, and if you need help using the program, you can consult the documentation emailed to you when you requested access to the trial version of the software. If this isn't enough, you'll be able to consult the support department.
Support (5 out of 5)
The website provides contact information for USA based customers, international based customers, and even mailing information for the coporate head office. Customers will always be able to get support for the program. The program is web based so many companies will not have to worry about making sure their systems will support the program. If a company chooses to use an installed version of the program, a representative will speak to them about how to handle it after purchase.
The sales team emails you to schedule a phone consultation so they can learn more about why you want to use the program in order to make sure you get the most from the program.
This post is part of the series: Internet Time Tracker Software Series
Take a look at Internet Time Tracker software reviews to find the best software for you and your needs.