How to Define Project Task Fields for a Task List in Outlook 2007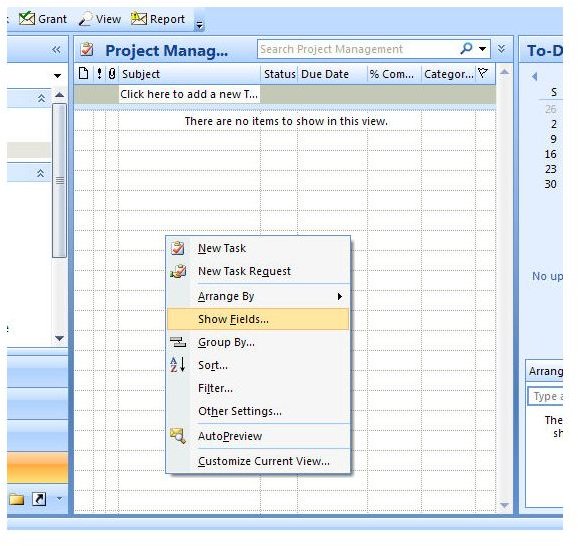 In Part 2 of this series, we covered how to set up a new task list folder in Microsoft Outlook 2007 for the purpose of managing project schedules. Now, we'll move on to the next step and explain how to set up the field categories that we want to use in this task list.
Choosing Fields
You can select as many fields as needed for your task scheduling structure. However, for this example, we will use the following.
Project Name
Task Name
Percent Complete
Start Date
Due Date
Date Completed
Status
Assigned To
Priority
To set up these fields in the Project Management folder, follow these steps.
Step 1: Go to the folder created in Part 2 of this series. If you elected not to create a special folder for project management tasks, open the default Tasks folder instead.
Step 2: Right-click anywhere in the central area of the folder and select the Show Fields option.
Step 3: In the Show Fields window that appears on your screen, choose All Task fields from the list of options in the Select available fields from drop down list.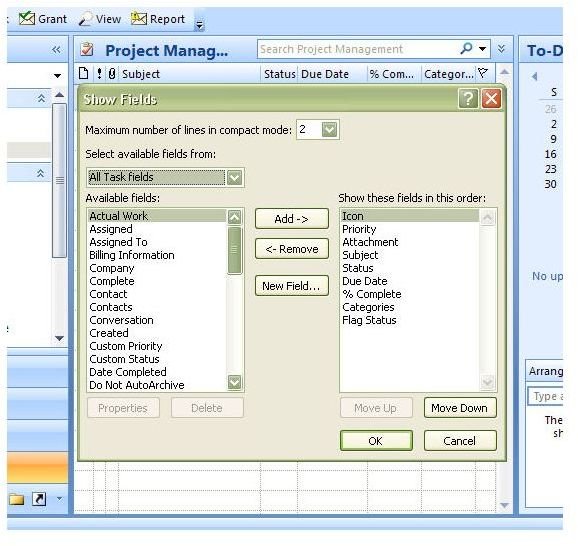 Step 4 (optional): Select each field that is currently shown in the Show these fields in this order area, and click the Remove button to delete them from the list.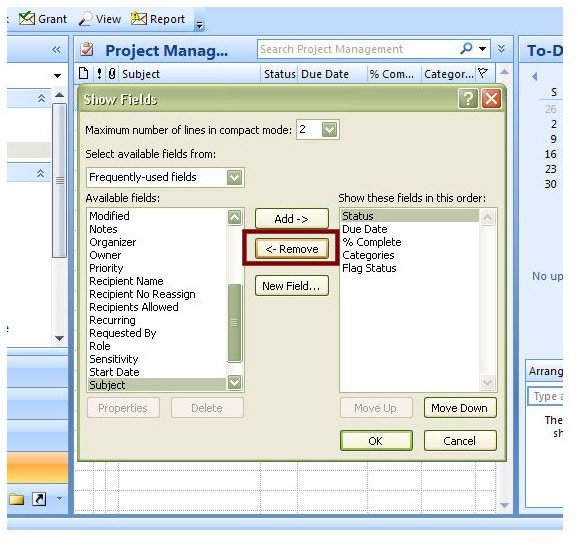 Although this step is optional, performing it will make it a little easier when we go to add the fields that we do want to keep.
Step 5: Add the fields listed above, or ones of your own choosing, to the Show these fields in this order box.
Here, we'll note that not all the fields in our list above are shown as options that can be added. There's no need to worry though. With Outlook 2007, you can define and add any field. We'll explain how to do that in the next section.
Defining New Fields
When customizing any list of tasks in Outlook 2007, you're going to run into situations where a field you would like to include isn't present as a predefined option. This isn't as big a problem as it might sound at first since it only takes a few steps to add a completely new field.
Step 1: In the Show Fields window, click on New Field.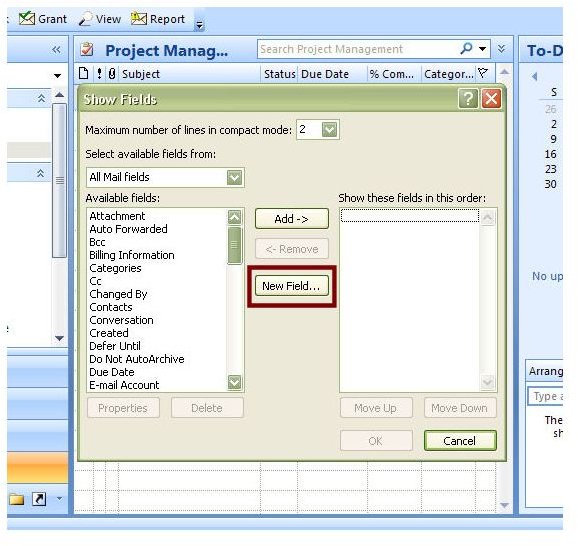 Step 2: In the New Field window, enter a Name for your field. Then, from the drop down list for Type, pick what type of information you want that field to include. For the Format selection, decide what format you want that data to take. If you're ever in doubt about what choices you should make for Type and Format, just select Text for both. These can always be changed later if necessary.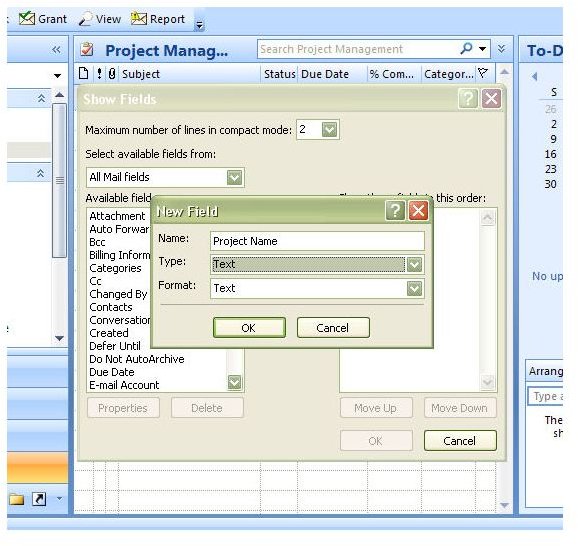 Step 3: Click OK when done. The new field will automatically be added to the Show these fields in this order box.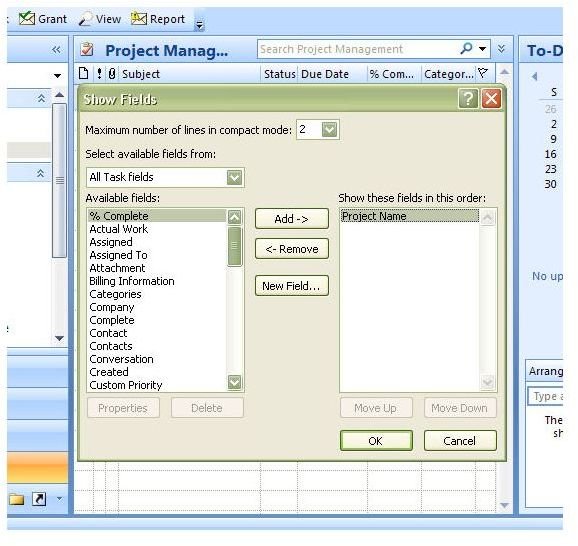 Wrapping Up
Once all the fields from the list we presented in the Choosing Fields section above have been added, the Show Fields window should look like the one in the screenshot below.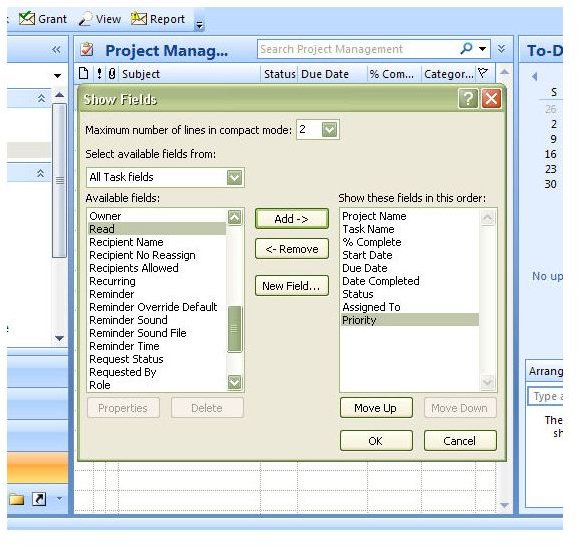 When finished in this window, click OK to return to the Project Management list of tasks in Outlook. This folder is now ready for tasks to be added, and we'll cover how to do that in the next part of this series.
References and Additional Resources
Microsoft Outlook Official Site, https://office.microsoft.com/en-us/outlook/
All screenshots taken by author.
This post is part of the series: Project Management with Microsoft Outlook 2007
The task scheduling abilities of Microsoft Outlook 2007 can be used to either build a full project management system or to complement existing software. In this series, we'll discuss how the Outlook task management system can be more fully utilized.