How to Create a Status Report for a Task in Microsoft Outlook 2007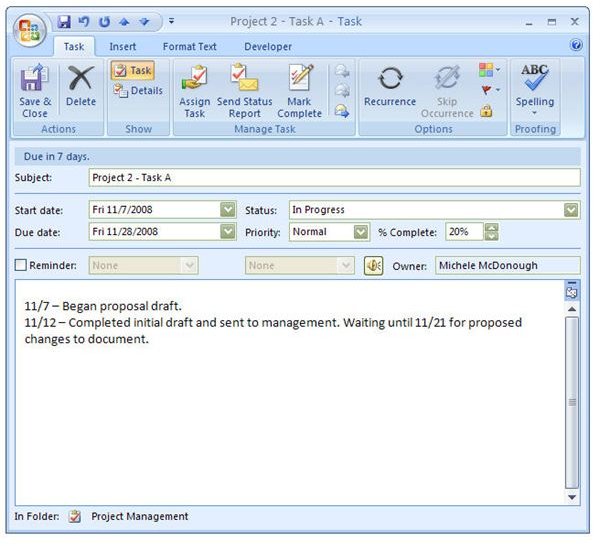 Mention status reports at any meeting, and you're sure to hear a few groans. The distaste that most people have for creating status reports isn't without reason. In many cases, they're time-consuming to produce, and that time could be much better spent actually working on the project task items that you're reporting on.
However, if you are managing project tasks with Outlook 2007 and you've kept your notes up to date, a status report can be created in just a few moments without causing too much additional stress.
Creating Status Reports
Step 1: Open the folder that contains your list of project task items in Outlook 2007.
Step 2: Locate the item that you want to create a status report for in the task list summary. Double-click on the task to open it in a new window. (Click the image below for a larger view.)
Step 3: Make any necessary updates to the task item. In particular, be sure to check the Status of the task to make sure that it accurately reflects what stage you are currently at. It's also a good idea to re-evaluate the % Complete field at this point in time.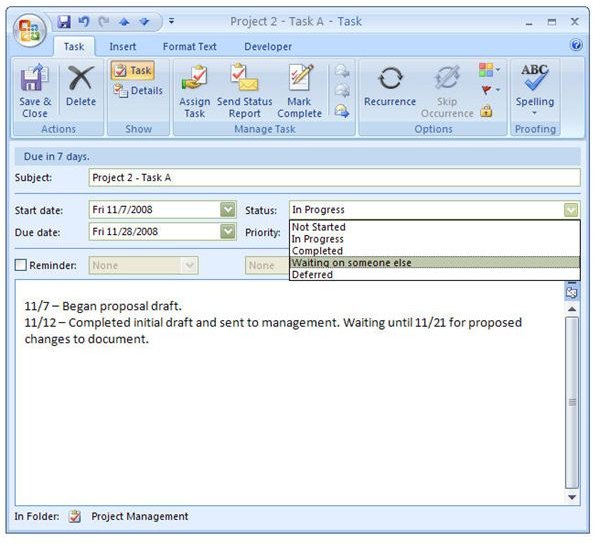 Step 4: When you have finished making your modifications, click on the Send Status Report button that is located in the Manage Task section of the Outlook ribbon.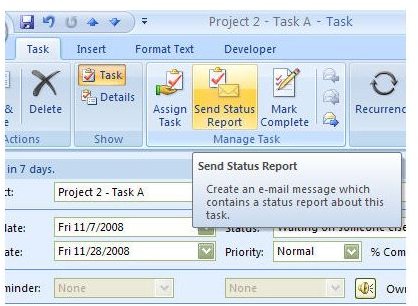 Step 5: A new email window will appear on your screen containing the information from your task item. You can include additional notes in this email if you need to make some type of clarification or if there is some issue that you want to inform the project manager about. This is the ideal place to include information about the task item that you don't want shown in the task notes.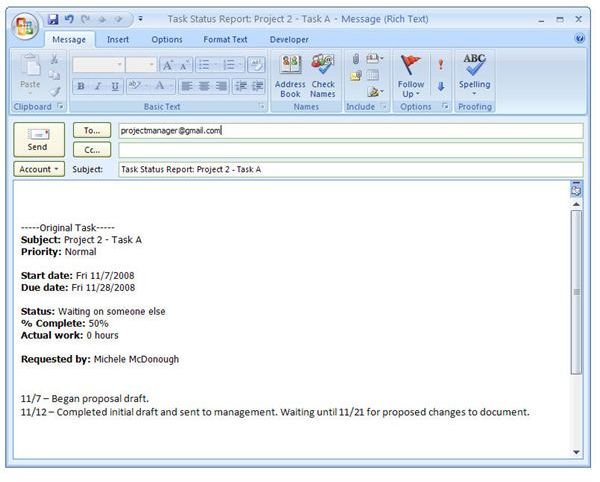 Fill in the email address and make any other desired changes to the message.
Step 6: Click Send when finished to send out the email. Upon doing this, you will be returned to the main window for the task item. Click Save & Close to exit this window and return to your task list summary.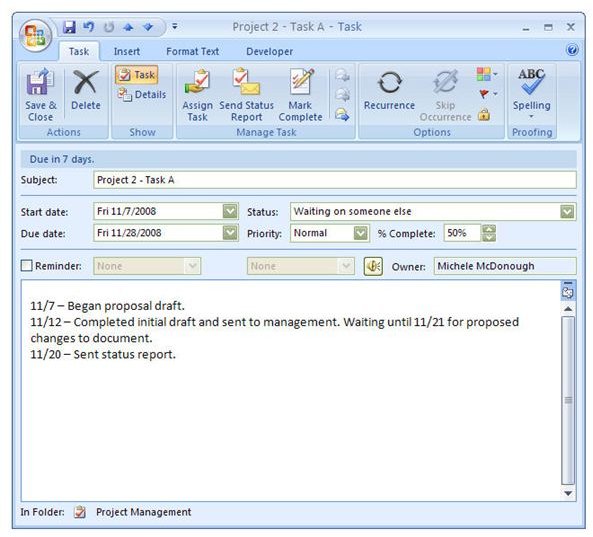 Note: Although this is just a personal preference, I like to add a note to the task item stating the date the status report was sent. This way, it's easier to keep track of how much progress was made between successive status reports.
This post is part of the series: Project Management with Microsoft Outlook 2007
The task scheduling abilities of Microsoft Outlook 2007 can be used to either build a full project management system or to complement existing software. In this series, we'll discuss how the Outlook task management system can be more fully utilized.