How to Create a New Task Folder in Outlook 2007 for Project Management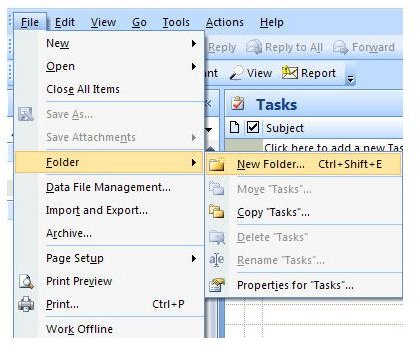 Why Use a Separate Task Folder?
One of the major reasons that people look for some type of software to use in conjunction with their project scheduling duties is because they need some help in organizational matters. For this reason alone, it's a good idea to set up a special task folder in Outlook that is dedicated to project management. This way, you can still use the main Tasks folder for other activities without worrying about how to keep them separate from project schedules.
Another advantage of setting up a new folder that is solely for project task management is that you can define the fields used in this folder differently that in your normal "everyday" task list. We'll talk more about how to do just that in Part 3 of this series. For now, we'll stick to the topic at hand and give instructions on how to create a new task folder in Outlook.
Creating a New Task Folder for Projects
Step 1: From the File menu on Outlook's main toolbar, select Folder and then New Folder. (Click the image below for a larger view.)
Step 2: In the Create New Folder window that appears, type in the name that you want to use for your new Tasks folder. In this example, we'll call our new folder Project Management. Make sure to select Task Items for the Folder contains field as shown in the screenshot below.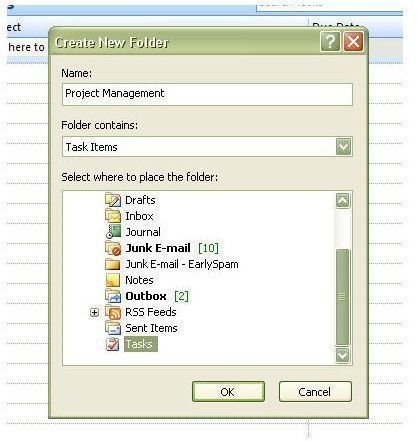 Step 3: Click OK to continue. To access the new folder, click on Tasks in the left-hand panel of Outlook. The Project Management folder will be listed now under My Tasks.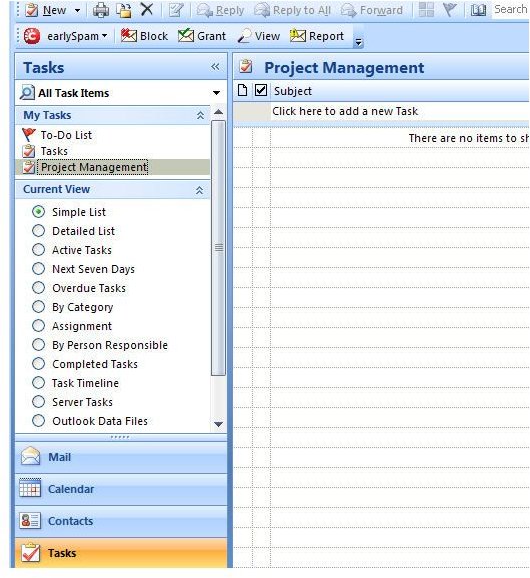 Note: If you are managing multiple projects, each one with several tasks, you may want to create a new folder for each project. However, for the rest of this series, we'll assume that you're only using one task folder to manage all projects.
Now that we've created this folder, the next step is deciding what category fields we want to use for the tasks we add to it. We'll cover that topic next in Part 3.
This post is part of the series: Project Management with Microsoft Outlook 2007
The task scheduling abilities of Microsoft Outlook 2007 can be used to either build a full project management system or to complement existing software. In this series, we'll discuss how the Outlook task management system can be more fully utilized.