@task or AtTask - Project Management Web-based Tool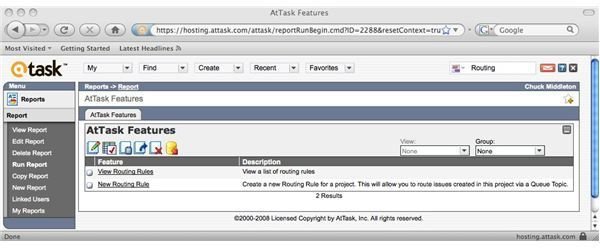 AtTask - The Project Tool (5 out of 5)
AtTask is a browser-based, customizable project management program that can be labeled as a SaaS (software as a service). It is therefore easily accessible by anyone with an Internet connection regardless where one is located. It is said AtTask supports several languages - French, German, Japanese and Spanish. There is also the provision of inclusion of Dutch and Polish.
Features of @task (5 out of 5)
Like most project management software, @task is easy to use provided the user is willing to spend some time in getting introduced to the interface web-based navigation and get acquainted with the system or program by reading the documentation and other informative material. Once the user becomes conversant with the program, with its user-friendly menus and navigation bars becomes really easy.

There are Excel-based templates termed as KickStarts, that allows the user to immediately plug in projects and tasks thus saving time spent in the setup process. However, some customization may still be necessary to adjust the setup to fit well with one's type of business.

There is the ability to easily create templates and every aspect of the program can be saved as a template. For instance, if one has the same task and same report recurring at regular intervals, this can be saved and drafted as a template, saving valuable time and labor.

An outstanding feature is indeed the customizable dashboards and portals. One can use each dashboard according to their own convenience and pace. There is a set of pre-defined options which helps in easy customization of dashboard and portal features. Only the information that h are needed at the time of execution while other important information can be saved and stored with ease and flexibility.

Available in the form of online tool (web-based application) or in other words, the program is run from the servers provided by the company @task itself and thus, there is no need to install any software. The company takes care to ensure the servers remain secure and no downtime. There is the On Premise installation when the software installs on the corporate server.

As a project management program, @task has the ability to keep all project members abreast of changes and updated status. It is good to know that projects created on Microsoft Project can be integrated with @task,

@task also has a capacity planner to fulfill a prime need. It lets the user add a project to a schedule and also know the feasibility of getting it accomplished within the set time.

A magical feature is Clik - a desktop application enabling users to update projects, communicate and manage resources even while being offline. There is a well regulated synchronization feature associated with this option – When you log on to the program, Click function automatically gets incorporated in the project management software. To be accurate, it syncs with project management software well.

Project Management with @task is very easy as all one has to do to create a new project is to fill the relevant information and assign specific tasks to members using drop down boxes.

There is a Risk/Benefit chart to show how each prospective project, aligns with the organization's goals, inherent risk and the cost involved – to make things easier for the management to arrive at an informed decision.

They will provide documentation and offer clarifications to all frequently asked questions, lend email support, multimedia tutorials and threaded notes.
In Conclusion (5 out of 5)
Mention must certainly be made of the support the developers offer. They will provide documentation and offer clarifications to all frequently asked questions, lend email support, multimedia tutorials and threaded notes.
Market reports consider @task as a good project management tool with attractive features but the complaint is pricing is high when compared with similar products.
Visit @task (AtTask) Website for more information and pricing details. You can also log on to @task Community.