Review of Unfuddle - Online Project Management Tool With Bug and Issue Tracking Capabilities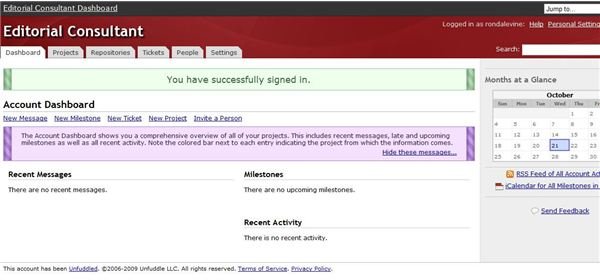 What Is It?
Unfuddle is an online software project management tool that allows you and your team members to track bugs and issues. The program allows you to manage your projects, perform source control, manage issues, and track time. The program promises to be fast, easy and secure. It can run on Mozilla Firefox 3+, Google Chrome, Safari 3+, or Internet Explorer 6+. The software developers at Unfuddle promise security in all of your data - especially since Amazon provides their servers.
Price (3 out of 5)
Unfuddle has five different pricing structures. You can use the project management software privately for free. This allows you two users, only one active project, and three notebook pages. The private use is meant to be used more as a trial to see if you want to use it for your company.
The Micro plan costs $9/month. This plan allows users up to four active projects, four archived projects, and ten users. This pricing plan is best for small businesses. Like the private user plan, it does not feature time tracking or some of the other features. The Compact plan, at $24/month, features high security, the ability to store up to ten archived projects and work on ten current projects, and file attachments.
For larger project management teams, there's the Corporate ($49/month) and Enterprise ($99/month) plans. Because it is a subscription service, Unfuddle can get expensive quickly - but it does offer a lot of features for its pricing, and it is still less expensive than some of the other programs out there, including custom project management software solutions.
Features (4 out of 5)
One thing Unfuddle does have to brag about is its features. Unfuddle, like many online project management tools, has a dashboard that gives users the summary of their project. From the dashboard page, there are five other tabs:
Projects - just like it sounds, this is where you can view each active project and, if available, your archived projects.
Tickets - This is where your project's bugs, feature requests, and issues will be tracked.
Repositories - This is where your team can browse code files.
People - a list of those involved with all projects
Settings - controls your personal information, account information, and subscription plan.
You may also see tabs for Messages, Milestones, Notebooks, Source, or Time Tracking depending on the version of software that you have subscribed to. The truly great thing about this software is that it tracks issues and bugs as well as day-to-day project activities.
Ease of Use (4 out of 5)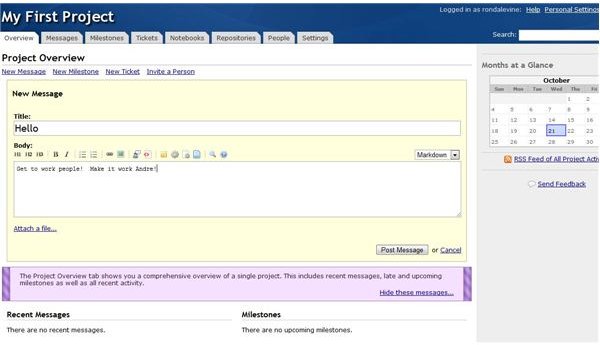 Unfuddle is fairly intuitive and easy to learn. On the first several uses of the software, a help-bar appears explaining each of the sections in the program. Within ten minutes, I was navigating the program and adding to the project and milestones sections. If you are familiar with other online project management programs such as Central Desktop, the navigation is similar.
Support (5 out of 5)
In addition to the help-bars throughout the program, Unfuddle has a blog that discusses updates and known issues with the software. It also features support such as FAQs, an official documentation, tools that will help you to integrate with other project management software programs, forums, and email. The makers of Unfuddle have truly tried to make it as easy as possible for you to use their software and to get the help you need should a problem arise.
Is Unfuddle for You?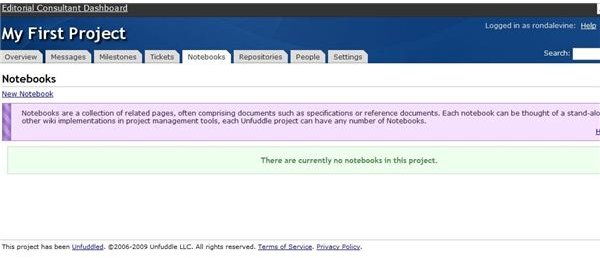 Unfuddle is for you if you are in software development or IT because it is specifically geared toward project managers in these industries. You will like Unfuddle if you have many team members who telecommute or travel because it will be available to them from any computer with an Internet connection. Finally, because Unfuddle features various pricing plan options, freelancers, small businesses, and enterprises alike may find the software to be intuitive, beneficial, and valuable to their business goals.