Best Project Management Software Packages for Under $100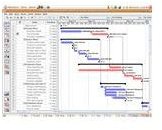 Small to medium sized businesses often cringe at the prices on most typical project management software lists. Desktop tools like Microsoft Project often cost over $100 per user while web-based tools frequently charge per user, per month.
Fortunately, teams of volunteers and marketing-savvy companies have released robust project management tools that skimp on the price and not on the features. This directory of the best project management software packages for under $100 highlights four tools that have grown in popularity because of the right combination of features and value.
OpenProject
Although a growing number of enterprise users have decided to deploy OpenOffice as a cost-effective alternative to Microsoft Office, the popular open source suite does not include its own project management software. Developers at Projity responded to the demand by releasing OpenProject, a free software package that is subsidized by the company's other services.
OpenProject looks and feels like many of the best project management software packages on the market. Best of all, it runs on Windows, Mac, and Unix machines, enabling managers to work across multi-platform environments. For a few dollars a month, users can host a virtualized edition of OpenProject on Projity's servers, making this tool an ideal hybrid of desktop and web-based project management software.
GanttProject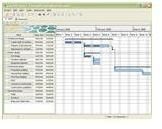 As the name implies, GanttProject is a tightly focused tool that allows users to create professional, polished Gantt charts. However, users can also manage team lists and manipulate assignments in real time. Resource load charts round out the package, offering some of the most popular features of Microsoft Project with a far smaller footprint. This highly stable tool is maintained by volunteer software programmers and project management professionals who release new features and security updates on a regular basis.
V1: AgileTeam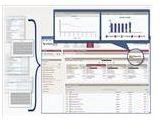 Well known for its web-based, enterprise-level project management tools, VersionOne recently released a stripped-down platform for smaller teams. Normally priced at $995, the Team Edition of V1: Agile requires users to maintain their own server. In exchange for that hardware investment, V1: Agile Team pulls remote colleagues together for collaboration, task tracking, and overall project planning. To promote the enterprise version of their software, VersionOne currently offers V1: Agile Team at no charge, making it ideal for small groups that plan on growing into large companies.
Project Engine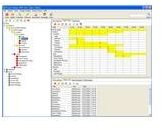 Designed as a powerful, automated task management system for large teams, Project Engine features a core of essential project management tools. Its "personal edition," available as a free download, gives users a glimpse of its potential. For leaders of small teams, the personal edition of Project Engine offers the same class of functionality as the best project management software packages on the market. An upgrade that unlocks even more features for growing teams costs just $120.
More Software Reviews
On Bright Hub's Project Management channel, our authors have reviewed several software programs that may suit your unique project management needs. Here are just a few:
To see a list of all active reviews, click here