Where to Find the Best Work Breakdown Structure Templates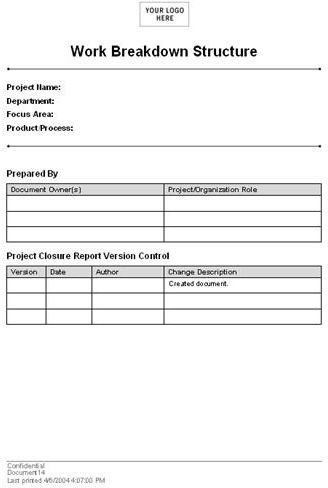 Purpose of a WBS
The answer to this question is simple, and it resembles the answer to the question anytime anyone asks: You use work breakdown structure templates because using templates save you time. When all you have to do after decomposing your project is enter items into an already created template, hours of dragging boxes, creating the proper fields, and making the "perfect" structure have already been done for you! Imagine, if all you had to do after spending hours breaking your project down into its component work items was enter the information into a chart all ready for your use! You can do this with a work breakdown structure - if you can find the right template for your project.
What to Look for in Your WBS Templates
To be sure that your WBS template is a good one, you will want to make sure that any work breakdown structure template you download possesses the following characteristics:
Task ID field
Task descriptor field
Field to denote task predecessor
Task owner field
Start date
Finish date
In addition to the above fields, you will need to determine what platform you wish to create your WBS on. You can create a WBS using MIcrosoft Excel. Check Microsoft Project to determine whether the WBS templates included there suit your needs. By predetermining which tool you will use when creating your WBS, you will know what kind of template you want to look for. You can even create a WBS using Microsoft Word. Determine the program for your WBS and stick to it.
Finally, if you want, you can embellish any template with your company logo. Simply insert your company information and logo then save the document as a template. This will ensure that you are able to use it multiple times for the same purpose for different projects, and it will give your template a sense of personalization that is often not inherrant when using templates.
Where to Find Your WBS Templates
In addition to checking software you already own for templates, you can tap various internet resources to find WBS templates to use. For example, Microsoft Office's Website provides a Word template for your WBS (https://office.microsoft.com/en-us/templates/work-breakdown-structure-TC001141726.aspx). This template, depicted to the right has fields that you can fill in with your individual work-items. This is an instance where you will probably want to add your own touch by inserting yoru company logo or colors into the template document.
I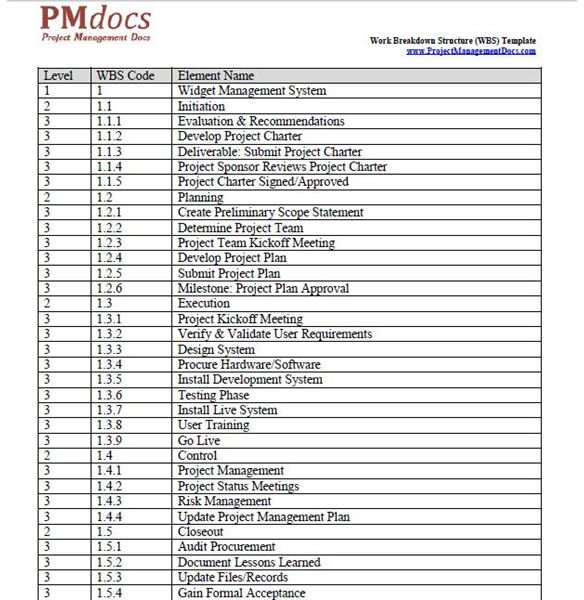 f you're looking for a WBS template with a little more pizzaz, you may want to check out the template depicted to the left, courtesy of PMdocs (https://www.projectmanagementdocs.com/templates/work-breakdown-structure-wbs.html). This template is a little bit more decorative, and is available to you in both word and PDF format. If you need a WBS template that packs a punch, you may want to look into it.
Finally, find a WBS template by our own Ann Gordon in the media gallery for your use. Her series on creating a Work Breakdown Structure is very useful reading, even if you're already familiar with the process you can review the steps in creating one of the most commonly used forms in project management.
If you're looking for more sample forms and downloadable templates, check out Bright Hub's resource guide Over 50 Free Project Management Templates and Sample Forms.
This post is part of the series: What is a Work Breakdown Structure?
This series approaches the Work Breakdown Structure (WBS) from a beginner's standpoint. To describe the WBS one could use the well-known adage, "How do you eat an elephant?" The answer, "One bite at a time."