Is There a Good, Free Program Similar to Microsoft Project?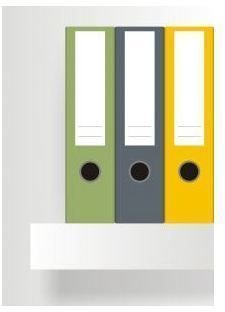 Is There a Good, Free Program Similar to Microsoft Project?
Project management begins by describing a project's scope and plan. Then you must set beginning and ending dates, delineate tasks,
establish a budget and assign staff. Let's take a look at free programs that manage your projects and keep you organized.
iTeamWork
You can sign up for a free version of iTeamWork. You also have two options to pay and play with a download to your hard drive, both just under $500.
Sign-up went without a problem, and I created a Project called Employee Training. This was a file created originally in Microsoft Project and demonstrated Examples of Microsoft Project Plans to show how a good project software will track who is doing what, when.
For this project I was able to assign tasks and assign managers for each task but could not list all the employees participating in specific tasks. You do have the ability to make notes, and you can decide whether each task manager is allowed to manage a task or add a task, or if you want to restrict his view of the project.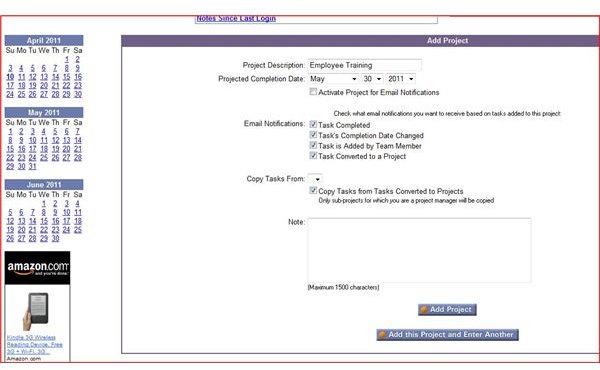 I created a second project called Medical Department Update (the goal: to install a Sleep Lab in the Department of Medicine), and an interesting glitch occurred. When attempting to copy my staff list from the first project into the second project, two names completely unknown to me appeared on my Team Member list. I was able to delete them, but then I could only add Joe and Mike to the project manually.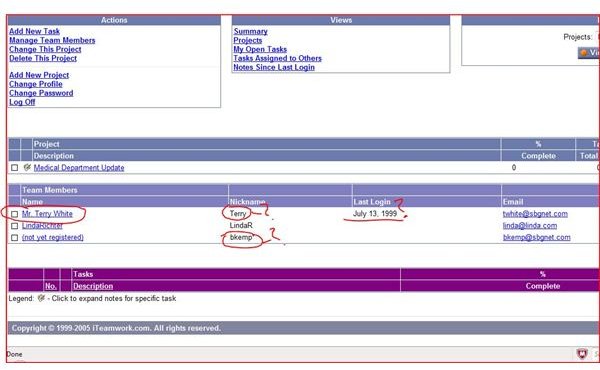 However, if you wish to use this product to keep track of your various ongoing projects, iTeamwork does have a nice listing of Upcoming Tasks, Past Due Tasks, Recently Completed Tasks, and Assigned Upcoming Tasks.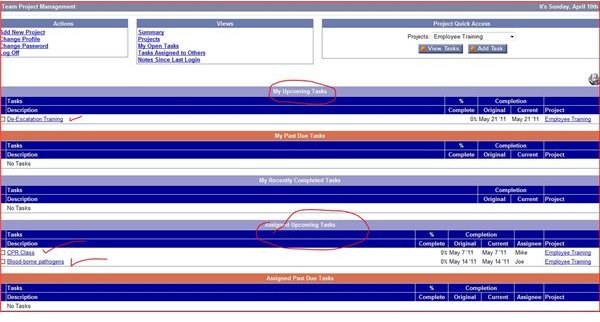 Smart Sheet – "The Power of Done"
This product more closely resembles Microsoft Project. Like iTeamwork, it's easy to sign up for this and get started online with nothing to download to your hard drive. The first feature you'll see is the option to view a video that explains Smart Sheet's features–bring some popcorn and settle down to watch it!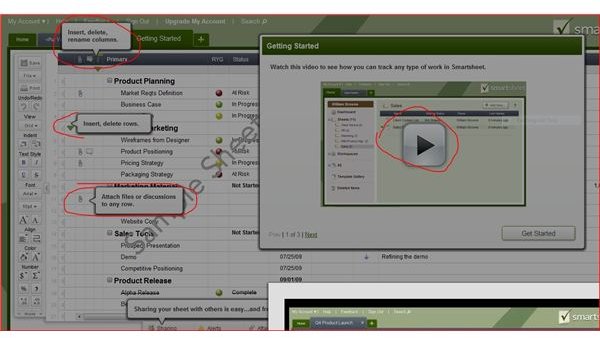 One great advantage of Smart Sheet is the ability to move columns and rows more easily than I found with Project. Also, I liked the option in the rows' drop-down menu to add a reminder for an update. You can also attach files to any row or keep track of ongoing discussions for any row. Like Project, you can import files from Excel and also from Google.
Your first view of an actual blank project sheet will have prompts to enter tasks and subtasks. You cannot enter the dates for a project; its dates are captured as you enter its subtasks and their dates. Smart Sheet automatically guesses how many days your tasks will be, but I changed each to one day since this is once again the Employee Training project. Smart Sheet also begins a Gantt chart view for you.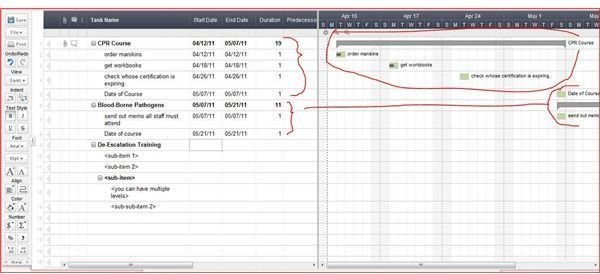 In the view below, you can see that a staff list has been uploaded to the Employee Training project. Smart Sheet also lets you send any row, including its attachments, to your team members or stakeholders. At the bottom of the task sheet is a tab for attachments so that you can view any of them whenever you like.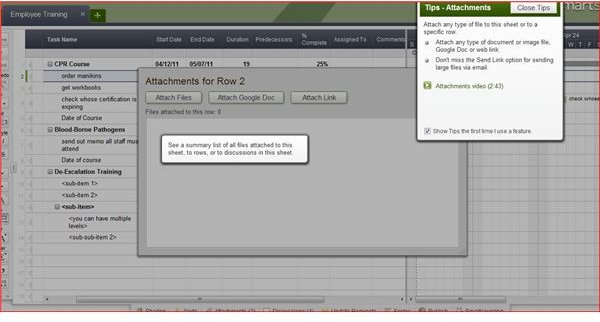 I easily inserted a column and named it Suggested Registrants, but I could not add more than one person. When I typed in the names, "Linda, Mike and Joey," Smart Sheet interpreted the entry as one person. Staff templates let you list one person per task.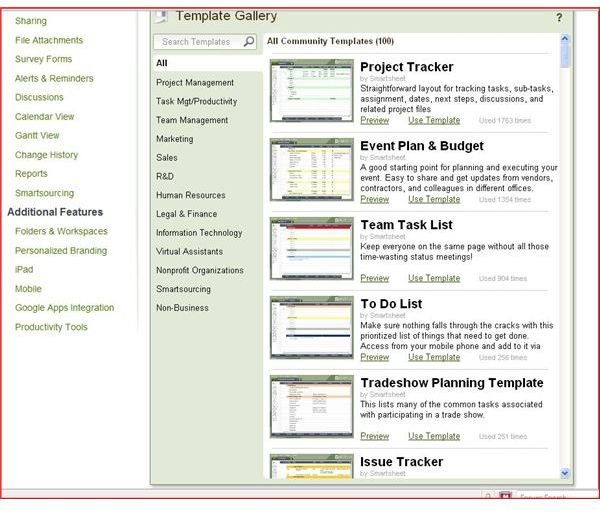 It's also very relevant that you can publish your project. Smart Sheet lets you choose whether to let people read it only or edit it, and you can also add dates from whatever web-based calendar you use.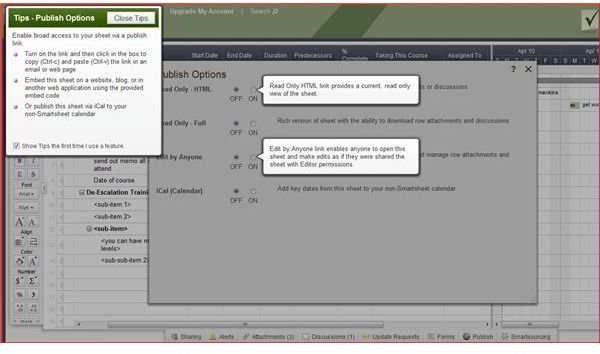 This product was very facile and even fun. You can use the free version to own up to 10 sheets, and if you decide to upgrade you have five options ranging from one project manager at $9.95 per month all the way to Enterprise at $149 per month; all options allow unlimited users or viewers.
Please continue on page 2 for more about finding a free program similar to Microsoft Project
Vertex 42 Gantt Chart Template for Excel
Vertex42 publishes a Gantt Chart template done in Excel that guides you–no, it seriously prompts you–to list your tasks as primary, subtasks, or sub-subtasks. If you want to add subtask rows, the spreadsheet has template rows below the main chart that allows you to maintain formulas and formatting appropriate for that level of task. There's also a column to assign task managers.
In the view below, you can see I've entered the two tasks, CPR Course and Blood-Borne Pathogens. As the tasks are completed, the Chart updates the percentage of task completion. In the Gantt chart area, the vertical red line helps designate your place in the project. The blue line reflects a completed task. The gray lines reflect tasks not completed.
The version depicted here is free, but additional features are unlocked if you pay $40 to upgrade.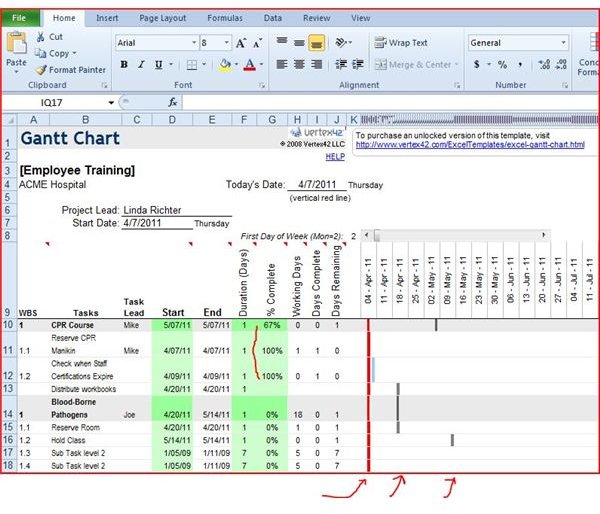 Microsoft Project Viewer
Microsoft itself does not offer a viewer for any of its Project products. You can buy the MOOS Project Viewer for $25, which lets you view any Project file in any of its views (resource sheet, task sheet, Gantt chart, etc.) You can resize your pages and hide columns but you cannot actually work on the file itself. You can find a review of the MOOS product as well as two other project viewers right here on Bright Hub.
Three Failed Attempts
This writer read positive if dated reviews about GanttProject and jxProject, but during the download process to try them out I was warned in both cases that there was not a current, valid digital certificate. Another attempt was with dotProject, but at registration, because of my email domain, I was "not authorized to carry out the operation."
Conclusion
Of the two successful free web-based software products, Smart Sheet worked without a glitch and offered a zillion useful features readily explained with free tips and helpful videos. It really is just what it says: A free program similar to Microsoft Project!
Vertex's Gantt chart works well, but frankly the Excel workbook for project management available as a free download from Bright Hub's Media Gallery (view below) offers more features. You have to input the task dates to create the Gantt chart, but budget and staffing graphs are drawn automatically.

If anyone has successfully, recently downloaded GanttProject or dxProject, please comment below—I'd love to hear about it!
Resources:
The writer has drawn on her own experience with project management software in experimenting with the products mentioned here.
Image Credits:
Introductory photo: sxc.hu, ilco
Screenshots by the writer