Monitoring & Control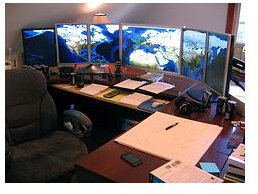 Taking charge of a project doesn't mean staring at your computer monitor all day and reviewing reports from team members. Sure projects can be scary or overwhelming when they're new; full of budget constraints, deadlines, short staffing, and other issues that pop up along the way. So, what are the best ways to monitor and control your projects?
Begin by discovering what you'll need for the project. Include every team member or stakeholder in the project and hold a project initiation meeting. Use our great project initiation checklist to guide you.Don't try to tackle the project alone. Delegate, communicate, and plan how you'll deal with problems when they arise. Always keep your budget in mind and what you'll do if your budget needs to be revisited. Monitoring is one thing and control another. Let's look at monitoring first.
Monitoring the project means you, as the project manager, are in charge and your project's health depends upon monitoring and control. Once you've met with team members and know what the stakeholders or clients want, how will you monitor the project? Better yet, what do you need to monitor?
What Should You Monitor?
The most important things to monitor in a project are:
Needs of the client – Is this progressing as discussed in your project planning meeting?
Efficiency – Are the tasks delegated to team members flowing smoothly?
Communication – Are you and your team communicating as a whole?
Budget – Is the budget in line or falling to the wayside?
Controls – Do you have controls in place? How will changes be implemented? What is your change control plan?
Review – Before you submit the project, is it the outcome you expected? If not, what needs to be changed?
Project analysis – If the project was a success the first time around, are you documenting how it flowed smoothly? If the project had many changes, you'll need to document what you did to allow the project's successful outcome.
Controlling Equals a Healthy Project
You can monitor all day long; however, if you don't control what you monitor, you won't have much success. Project controls are key in project planning and management. Managers must keep an open mind from the very beginning of every project so if or when something goes wrong, what controls will be in place to correct problems?
Create a change control plan first. Be detailed on who has the authority to report or implement change and how change will be handled. In other words, control your project's progression.
Hold delegated staff accountable within their work groups.
Weekly meetings on controls set should be reviewed and enforced.
Will you need change requests? If so, how will the change requests be implemented?
If the budget is affected, who has the authority to increase the budget or do you have to include stakeholders or clients. It's important to include stakeholders when a budget is adjusted but if you talk about this at your project initiation meeting, you can set some guidelines to give you authority at some level of budget decisions.
Control the timeline of the project. If it isn't going in the right direction, your change control plan should outline project flow issues.
Projects that never flow smoothly, fumble at every level, and fail to have accountability will not be healthy projects with healthy outcomes. Use these tips and keep in mind that your project's health depends upon monitoring and control. Document procedures from successful projects and utilize them in the future. Good systems used again and again will ensure your project's health and success.