Planning the very first project can present undue worry and stress. While some projects fail due to lack of project management knowledge and expertise, it is frequently issues with soft skills and lack of confidence in our (or our team's) ability to successfully perform that is the culprit. Hence, projects are begun with fear of failure in mind.
Self-trust is one of the most important characteristics a Project Manager can attain to help ensure project success. The 10 tips for planning your first project in this two-part article series will help you to take a deep breath, relax and get focused as it sheds some light on preparing to successfully plan and manage your first project.
1. Develop the right mindset.
Approaching a project with the proper mindset is a significant part of the effort. Begin with an attitude of gratitude and success. Be grateful for the opportunity to manage your project and team. Value yourself, your team and the contributions each contributor can and will make. Believe, and convey your belief, that project success is your attainable goal.
2. You don't know it all.

That's right! Not only do you not know it all, but you don't have to know it all. You are not perfect, nor are you expected to be perfect. Frankly, the more transparent you are about understanding and accepting these truths, the better example you are setting for your team, and the better they will perform without anticipating condemnation for being imperfect. Although this type if insight is not typically communicated when reading about project planning importance, it is essential.
3. You can't do it all.
Delegate! You are not alone. You have a team (or at least access to other resources) that will work with or help you to accomplish your goal. Don't hesitate to reach out to others for assistance. It is in the best interest of the project to proactively seek help or support rather than to allow fear or pride to cause you to mislead the project right into doom and failure. Asking for help shows regard for your project and your team.
4. Don't re-invent the wheel.
More than likely what you need to do has previously been done by someone else, at least in some capacity. Innovation and creativity are great, but unless necessary and for time's sake, it is wise to consider the plethora of information and support available to you and your team. You will likely learn something new and discover different or more effective ways of accomplishing tasks. This may also allow for time savings needed as the project progresses, particularly should unanticipated delays arise.
5. Communicate!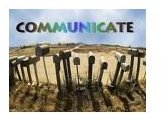 I can't express how important it is to develop a sound and effective communications process that welcomes input and contributions from all the project constituents, including the project manager, upper management, stakeholders, customers and team members. Don't allow anyone or anything to hinder sharing or conveying pertinent information. If all else fails, call or pay a visit to someone with whom communication is needed, even if this is not a pre-established communication mechanism. Doing something is better than doing absolutely nothing.
6. Good fundamental planning is the key.
It's true that planning is half the battle. Successful projects result from a lot of solid preparation, thus a lot less work down the road. So, how do you plan a project? For starters, consider the information provided in this article series on project management basics .
Once you have a conceptual understanding of these project management basics, read this article for insight regarding creating your first project plan.
Don't lose sight of your goals and objectives. This means that you absolutely must set some goals and objectives. When things get tough, keeping sight of what you are aiming to accomplish will help to keep you grounded and moving forward.
7. Accept that change is inevitable.
Are plans really meant to change? Whether or not they are, you can count on things changing, which is why it important to apply some forethought in planning and preparation. You want to be as prepared to address changes as effectively and expediently as possible to minimize impact to the project. This may require some flexibility, so don't be so rigid that you can not adapt to change.
8. Prepare for obstacles.
Things happen, and what happens is not always in the plan, possibly causing your project to get off track. You will make mistakes.You will do wrong. It's not the end of the world. Recognize and accept that making mistakes and doing wrong are sure ways to learn that something needs to be done differently in order to get desired results. When you find that your project is derailing, make the necessary corrective adjustments.
Such situations present opportunity to demonstrate your resilience and ability to get the project back on track. Think about what is truly in the best interest of the project. Ensure you have the resources and wherewithal to get the job done. If you believe you don't, act accordingly using your best judgment. Again, trust yourself, and be true to yourself.
9. Did I say, COMMUNICATE?
As I said in Part 1 of this article series, communication is essential. Communication must be ongoing and offer an

environment where everyone involved is welcomed to be heard and to contribute. Communicating helps to increase team synergy that binds the team and offers the working-togetherness which results in successful project completion. Read my article on the importance of project team communication for insightful information.
10. Keep in mind your role as Project Manager.
We are sometimes our own worst critic. Shake that gremlin! Just because you are the Project Manager does not mean you have to know everything that needs to be done and how it must be done. You are charged with managing the effort and the expert resources to lead a smooth process of ensuring tasks and activities are properly performed, completed on time and delivered within budget. You have a team or at least access to others who can help you when needed. Don't hesitate to reach out for help, particularly because of pride or fear. You'd be amazed at how willing others are to help.
Now that you have absorbed these 10 tips for planning your first project, you are ready to get to work. This article series has provided a slight twist to concepts of project planning, yet its content can not be underestimated in project planning importance. Any information that helps a Project Manager perform more effectively is worth its weight in gold.
This post is part of the series: 10 Tips for Planning Your First Project
These 10 tips for planning your first project will prove to help allay some of your fears and concerns and allow you to focus on your goal of successfully completing and delivering your project.