Bright Hub's Free Project Management Execution Templates You Can Download

The planning has been finalized, the stakeholders are all on the same page – and it is time to start the project. A lot of thought and
planning has gone into the project at this point, all to enable this stage – the execution stage – to go smoothly. Within this stage, you will also move back and forth between the planning stage and the monitoring phase, although the focus is on actually implementing the project.
Image: Wikipedia Commons - Project Management Phases by Alphamu57.
Project Schedules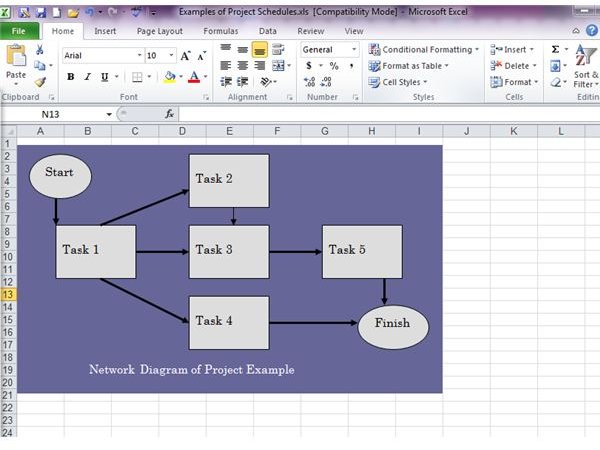 Project scheduling is key to the success of any project. The template project schedule spreadsheet has examples on different tabs of a task list, a version of a Gantt chart, and a network diagram, allowing you to look at different aspects of scheduling at once. They are highly customizable, and are another essential tool for the execution stage, while helping monitor the project.
An additional template which brings together a number of executable templates on different tabs is the Excel Project Management
chart, which provides a 3 month project time line, a review of tasks, staff, budget and reports in a single spreadsheet. If you find another template suits you better for a specific task, you could add it as a page in the spreadsheet, creating your own custom template package.
Risk Assessment and Change Management
Another part of planning has been devoted to establishing the parameters of the project, what the tasks are, who will complete them,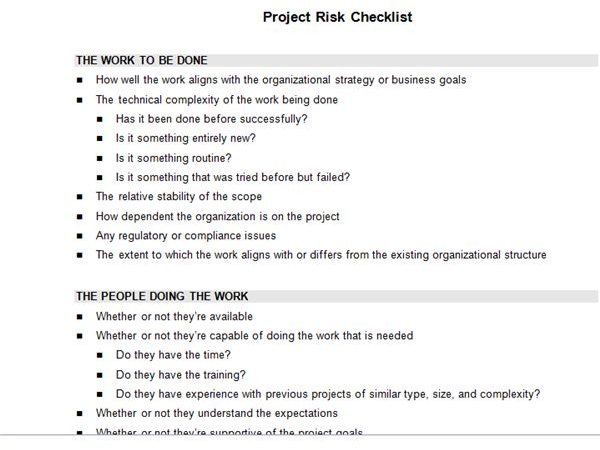 and what problems they might encounter. This has provided the project with a risk assessment, and contingency plans. A checklist for determining risk assessment is available, allowing you to see where you need contingency plans.
Contingency plans, however, need to be incorporated into the project tasks and time line if they become necessary, and a template for requesting change is available in the media gallery. As an adjunct to change, the project must track what is happening, and the same template also has a section for a change management tracking log.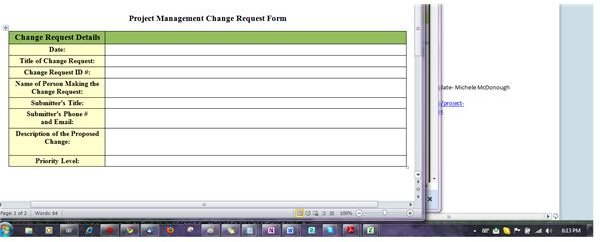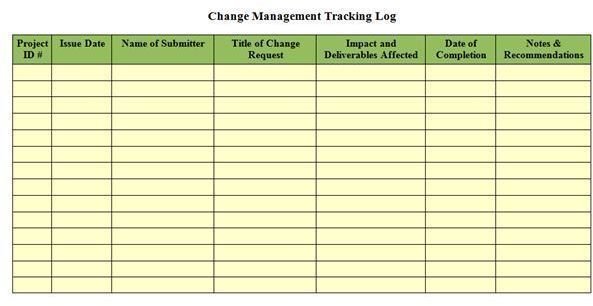 Communication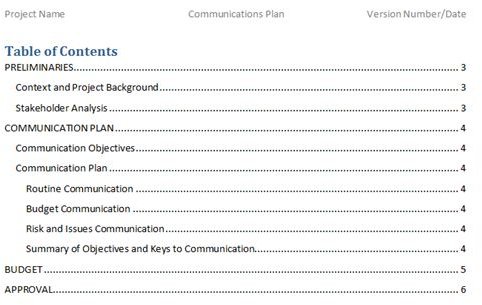 A project will not succeed without communication between team members, and this communication template will not only make it easy for everyone to communicate with each other, it will standardize communications, so everyone is literally on the same page.
In addition to the communications plan plan template, You can download a sample communication matrix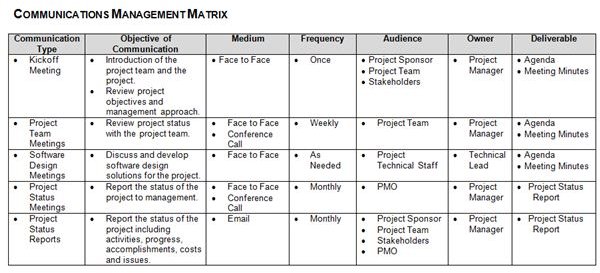 template, and customize it for everyone who has a need to know.
Budgeting
Another planning stage item which is needed in the executable stage is the project budget- so expenditures can be tracked as the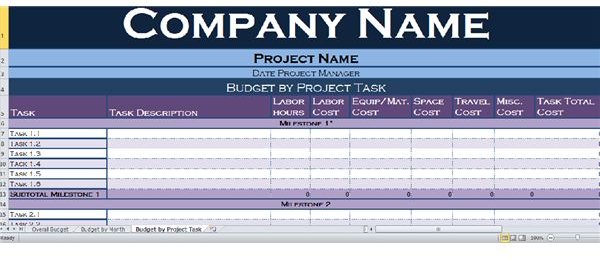 project progresses. Staying within budget is one of the high priorities for any project. A very comprehensive template created in Excel is available for the project budget, and any unanticipated categories can be added in, or further customized.
Project Reports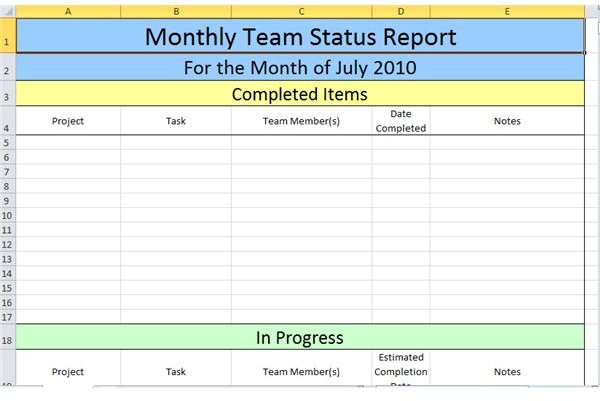 One specific type of project management communications is regular project reports. This Excel template provides the perfect example of reporting progress on a regular monthly basis, and as always, the nature of an Excel template allows complete customization for your own project needs.
An alternative and simpler style of a progress management report template is also available, and you are free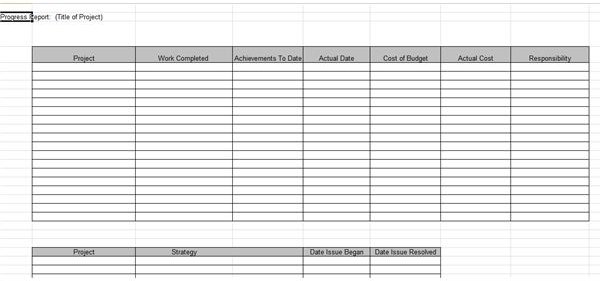 to download both templates and use the one that works best for you.
Issue Tracking Template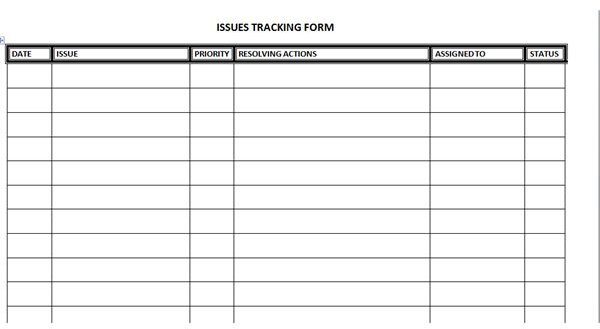 No matter how much planning is done, there are unanticipated contingencies which turn up with depressing regularity, often through no fault of the project management planning team. Despite experience and brainstorming, a project plan may find issues which were not planned for, and which must be dealt with. This template allows you to track those issues and what needs to be done, along with the solution, and can be incorporated into the project documentation.
Sample Gantt Chart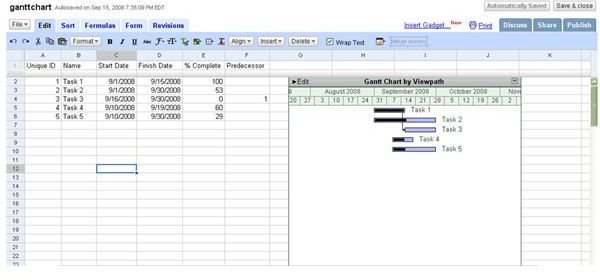 Even before the execution phase begins, there is one executable that must be started. The project needs to track itself, to make sure it stays on schedule. One of the most common methods of tracking progress is to use a Gantt chart, which enables you to see multiple tasks and their time lines at once, along with their due dates. This sample Gantt chart was created in Google Docs, so that project workers in different locations can all stay informed of the project's progress and whether the different tasks are staying on time as planned, or are slipping. Since Google Docs allows real time editing by all enabled parties, this is a powerful tool.
Closure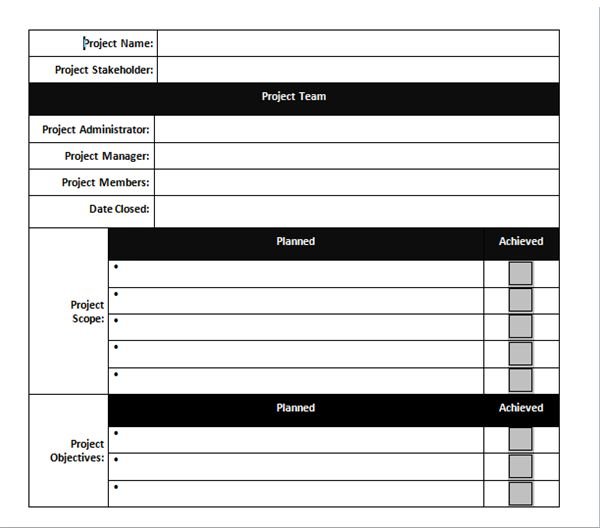 A final step in the execution stage of a project is completing all tasks, and reaching your goal- before time and under budget, if possible. Here is a Word 2007 project signoff template for the closing stage of the project.
This post is part of the series: Project Management Forms & Templates
In this series of articles, we've collected many of the most popular articles that contain links to project management forms and templates you can download for free here at Bright Hub