Must-Bookmark Guide to Plan-Do-Check-Act: PDCA Methodologies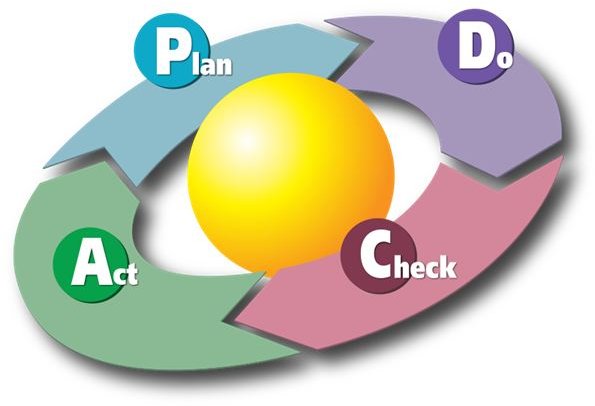 The Theory Behind the Methods
Some project managers come to their positions after thorough training and even PM certification, sponsored and paid by the
company. Other PMs are thrown into the fray, finding themselves assigned to manage projects with nothing but an innate sense of organization to get them started. No matter which category you fall into, our first section on the PDCA cycle begins with theory. If you're going to implement the process, you have to fully understand it.
Both veterans and novices should be aware the PDCA (plan-do-check-act) is also known as PDSA (plan-do-study-act). The latter from my experience seems to be more common in healthcare or social service contexts. Both acronyms mean the same.
The first article discusses the basics of PDCA, a cycle of change management created by W. Edward Deming to improve quality processes—and Walter Shewhart gets some credit here, too! The second article takes you through Deming's 14 points of change, and the third will immerse you more completely in Deming's beliefs and practices.
Putting It All Into Practice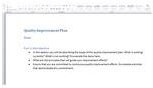 Now we can get into the substance of PDCA methods. You need to understand how it can keep you and your team focused on quality improvement processes.
First, you can read actual examples of PDCA management in action in industrial applications, in the social service and health care fields, and in education. Next we want you to get a good idea of how you can integrate PDCA practices so that you can compare what

you want to do with exactly what you're doing—the progress of your WBS (work breakdown structure), for example.
To help you in deciding goals and tracking variances, the next article links you to a useful template, free and easy to download as a Word doc. You might prefer to use a more simple dashboard report—the fourth article here depicts an example—or even use a Pareto chart that helps determine your direction. Last in this section, read about some of the pitfalls of PDCA—such as forgetting that your people are humans who might have trouble adapting to certain steps of the process.
Working With Your PM Team
Keeping in mind that humans do make up your change or process improvement team, we have some ideas for working with them. Not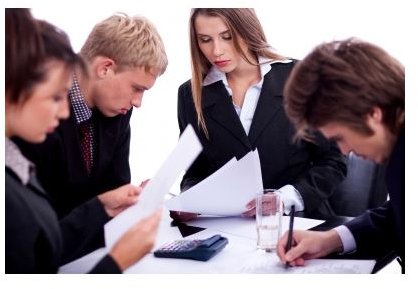 everybody has the same analytical mind as a project manager; you have to remember that and find effective ways to engage various people on the team as any given project moves forward.
Begin by learning how to assemble a team—the frontline users can be just as important as the project sponsors. Next is a thoughtful discussion on how you can shoot yourself in the foot if you don't give your team the support it needs, and then take a look at the last article as a reminder that you've got to incorporate a spark of creativity into any worthwhile project.
Achieving Continuous Process Improvement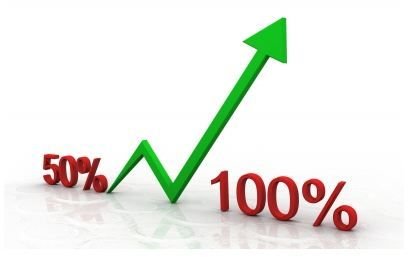 As you've progressed with PDCA methods, hopefully you have come to understand that PDCA is nothing so much as an organized method of Total Quality Management to continually improve processes. You'll find writings by Bright Hub's best project management experts.
You can begin with this essay on how to put this customer-based methodology to work defining quality standards. This is followed by theories about Total Quality Management (TQM) and the execution of customer-based and service-oriented product or service changes. The next article takes you through planning project specs up front and then testing as you go along to see if you need to return to the planning stage.
Many projects fail because of a lack of process improvement planning; CQI averts this. PMBoK practices address the metrics and checklists for CQI, and our last article in this section discusses how PDCA practices are a huge part of that.
The PDCA Effect on Other PM Processes
If you're already a fan of other project management processes, does the PDCA methodology have a place in them? This is a good question especially if your supervisor has already embraced a specific software or methodology. It's certainly valid to point out that no matter what process you utilize, PDCA has a place in it.
The first essay in this section describes developing evergreen breakthroughs in quality management, performance management, organizational competitiveness, and keeping control of your project. You will learn that PDCA in Agile management helps you investigate or track variables. PDCA also is the basis for Six Sigma's DMAIC. Many managers implement the steps of the PDCA cycle with the popular 5S methodology.
If you are a Kaizen manager, consider how PDCA so closely resembles the steps created in this philosophy to reduce waste and improve processes. It will assist you in orchestrating the processes managed by your team members.
PDCA techniques are also an accepted component of ISO management—our article discusses the ISO 50001 standards for engineering but explains that PDCA processes have been accepted in other, earlier ISO management standards. The last article in the section serves as a roundup, explaining how PDCA has a place in Juran's trilogy, which manages the planning, control and improvement of quality processes. It was also assists in variance analysis methods, which typically form the basis of Six Sigma practices.
As Natural As Dance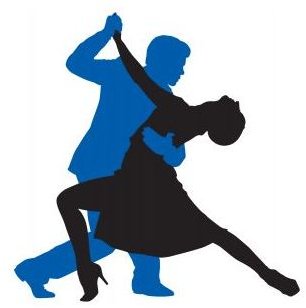 What I love best about PDCA processes is the pure logic it offers. Remember in the movie Scent of a Woman, Al Pacino said that when dancing the tango, if you get tangled up you can just tango on. The same is true of the PDCA cycle: By embracing these sound progress markers, you can keep your project from creeping out of scope, and you have organized methods for instituting change, managing risk and assessing quality. What more could any project manager ask for?
References