Project Management Satisfies Clients and Customers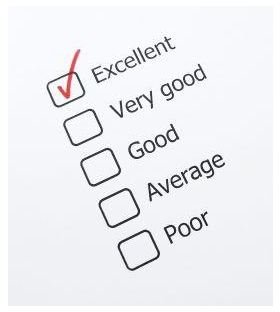 Client and Customer Satisfaction - The Ultimate Goal
It is fitting that the series on the importance of project management end on the ultimate business goal (next to making money). This goal is to have satisfied clients and customers. Why is it so important? Dissatisfied patrons will tell five people they were dissatisfied with your company. Satisfied clients become repeat customers and are more likely to recommend your product or company for its quality.
In order to satisfy clients, you must know what the clients want. You should always listen to your client's needs and expectations. Client satisfaction is the meeting (or exceeding) of client expectations combined with the quality of service. According to a report, "Measuring Client Satisfaction," the following are the key ways in which clients judge quality:
Tangibles - the way facilities, resources and products appear
Reliability - does the company do what it says it will?
Responsiveness - if the client has a concern, will the company resolve it?
Competence - does the company have resources with the proper skill sets?
Courtesy - are company representatives friendly?
Credibility - is the company trustworthy?
Security - does the company provide an aura of strength and staying power?
Access - are representatives from the company available to the client?
Communication - does the company keep its clients informed?
Understanding the client - does the company make efforts to get to know the clients and their needs?
When these criteria are met or exceeded, the customer walks away, a very happy and satisfied client - and she will remember the pleasant experience for the future.
How does Project Management Lead to Client and Customer Satisfaction?
There are many project management methods that put the customer in a position of priority when it comes to making important decisions concerning products. Among these methods are Scrum, Six Sigma and Agile. Basing project management methods on client and customer needs is a growing field.
Clients are important stakeholders in project management. A stakeholder is anyone who has interest in the project. Good project managers provide a stakeholder analysis during the planning phase.. By performing stakeholder analysis, project managers and team members are aware of who has interest and influence in the project, and how much interest and influence that person has. This helps project managers to meet the ten criteria for satisfying clients listed above. Stakeholder analysis allows an at-a-glance view of whom to contact, when and why.
For Further Reading:
For more information on stakeholders and how to keep clients satisfied, you may wish to read the following BrightHub articles:
Joe Taylor Jr.'s "Elements of a Communication Plan: Viewing Stakeholders as an Audience"
Natasha M. Baker's "Examples of Stakeholder Analysis" Series
and
Ronda Roberts' "3 Great Examples of a Stakeholder Analysis"
This post is part of the series: Importance of Project Management
This series explores the importance of project management for companies.