Simple Project Management Software to Meet Your Project Management Needs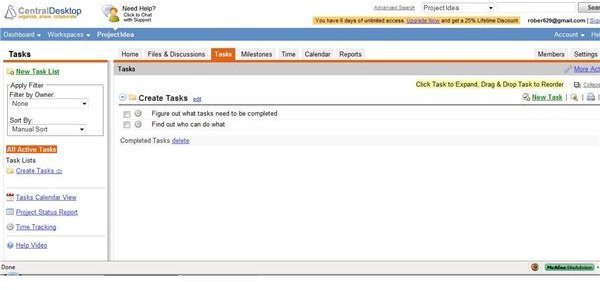 Why Look for Simple Project Management Software Options?
By focusing on simple project management software options, you increase the productivity of everyone involved with your project and you reduce the amount of time you spend planning the project. If you focus on easy to use project management programs, then all team members can be empowered, and you can save training time. If you put a little effort into finding a program that is intuitive for not only yourself but your team members, your rewards will be exponential. Simple project management software allows users to take control of their experience. If you don't want to worry about the details of a Gantt Chart, or if you don't need resource leveling features, then you can skip purchasing the program that's all inclusive.
When looking for project management software that's easy to use, it is vital that you focus on making a list of the features that you and your team need and will use. This way, rather than being tempted to purchase an overly-complex program that does way more than you need it to, or an overly simple program that doesn't do enough, you can find the program that's a perfect fit. In order to help you, here is a list of the top 10 programs that are easy to learn and use.
1. Central Desktop
Central Desktop is an outstanding and simple project management software program. If your teams are remote, or if a lot of collaboration is necessary in your projects, you'll want to check out Central Desktop. This program allows users to collaborate on documents, plan out projects and milestones, track issues, keep a record of what tasks have been completed, and more. Central Desktop is On-Demand software, meaning that the program is delivered to users through a subscription. Pricing at the time of the publishing of this article was:
Basic - Free for up to 5 users, 1GB of storage, and 2 workspaces
Workgroup - $99/month for up to 20 users, 50GB of storage, and 10 workspaces
Enterprise - $299+/month for 20 or more users, 100GB+ of storage, and unlimited workspaces.
Central Desktop could be just what you're looking for, but before investing in the program, you'll want to take advantage of the 30-day free trial.
Pros: Easy to use, customizable dashboard, outstanding collaboration features, integration with Outlook, online meeting space.
Cons: Expensive, no Gantt Chart, the daily email status updates can become annoying.
Screenshot courtesy of Ronda Levine.
2. Projecturf 2.1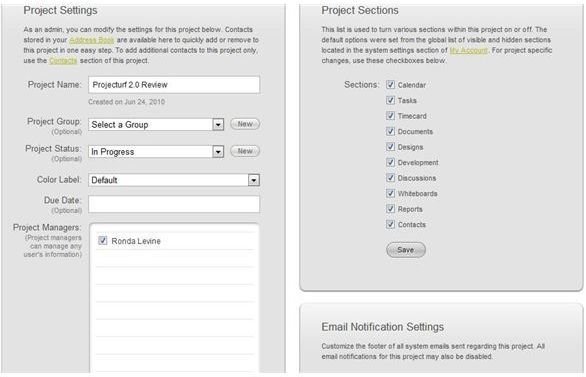 Projecturf 2.1 is an incredibly simple, but useful project management program. Projecturf 2.1 allows you to track not only one project but multiple projects, You can have an at-a-glance view of all projects you have undertaken. The program newly features Gantt Chart capabilities. While many subscription-based programs charge you per user, with Projecturf, you can add as many resources as you need. You also will find that Projecturf 2.1 allows users to customize the program and the documents produced by the program in terms of both color and company logo. You select only the features you wish to use for the particular project you are working on. Projecturf 2.1's pricing structure is based upon the number of projects you will be using it with, and offers the advantage of unlimited users and unlimited storage space. For example:
1 project is $9.99/month
5 projects are $19.99/month
100 projects are $119.00/month
Unlimited projects are $199.00/month.
Projecturf 2.1 allows you to use a trial version of the software free for 14 days.
Pros: Easy to use, customizable with colors and company logos, simple multiple project management features, unlimited users and storage (meaning that should you have a large company but only a few projects; you can save a lot of money when compared to other programs).
Cons: Web-based, so if the Internet is down, or you don't have access to the Internet, you might not be able to access your project information.
Continue reading on page 2 of this article for more simple project management software options for your needs.
Screenshot courtesy of Ronda Levine
3. AEC FastTrack Schedule 10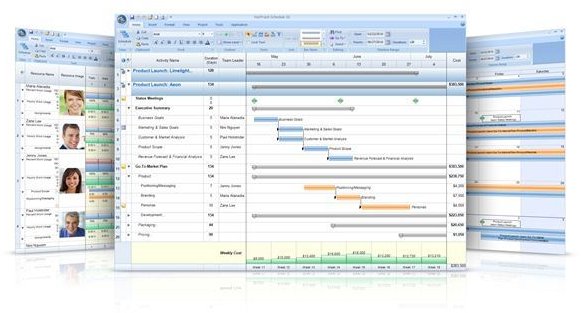 AEC's FastTrack Schedule 10 is an outstanding option if you're looking for a simple project management software solution. The program gives you three different views - schedule, resources, and calendar. The great part of this program is that you can download templates for any possible project need. The project templates available to FastTrack Schedule 10 users run the gambit from company templates to academic templates. This means that any project you can conceive of can be tracked in this program. You can schedule via either effort-driven scheduling or fixed-duration scheduling methods. AEC's simple project management software is very visually oriented, which makes it really easy to learn. FastTrack Schedule 10 will set you back $349 for the full license and $179 for the upgrade license.
Pros: Very visual, lots of templates available to get you started on your project quickly, compatible with other project management software including MS Project 2007 and MindJet's MindManager, and the program has both Mac and PC versions.
Cons: Expensive, doesn't allow for collaboration, focuses just on scheduling your project.
Screenshot courtesy of AEC
4. @Task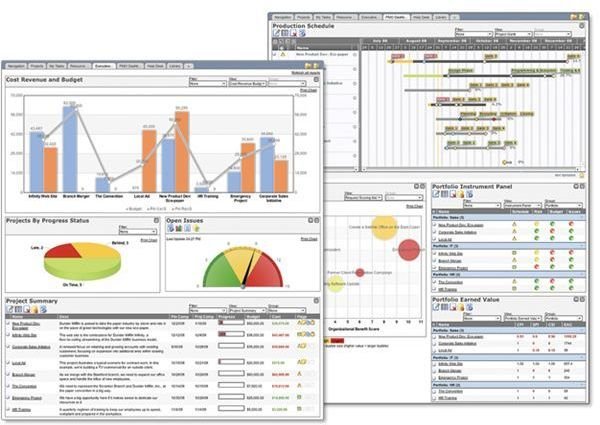 @Task, also known as At Task, is another great easy to use option for individuals looking for simple project management software options for their company. @Task is an outstanding program that allows its users to plan and collaborate on their projects. @Task is an online, web-based collaboration software. This means that users are able to work together to plan the project, update the project status, and customize their dashboard. @Task helps users to not only plan their projects, but also to evaluate whether or not to take on a project. At the time of this article, the creators of @Task did not list pricing information on their website.
Pros: Very comprehensive program, there are lots of features, customizable, an all-in-one project management suite, allows you to collaborate with other users, available in a multitude of languages making it a great option for companies with teams overseas.
Cons: The pricing status is unknown, does require some effort to learn use all the features of the program.
Screenshot courtesy of Preetam Kaushik
5. Tenrox

Tenrox is another outstanding option for project management that includes simple software. The program, as with many project management programs that are coming on the market, is web-based. This means that you can access the project information from any computer you may be working at. Tenrox is known for its adeptness in providing resource planning tools. Unlike other programs, you can purchase just what you need from Tenrox. The program is compatible with Microsoft programs, and this makes it easy to integrate with what you've already been using for project management. Tenrox offers demos, trials, and webinars to ensure that you will understand what their program is all about. No pricing information was available at the time of this article.
Pros: Customizable, delivered on demand, all-inclusive (you can manage billing as well as your projects), you only pay for the modules you use.
Cons: Pricing status is unknown, having many features or determining what features your company needs may be a complicated process.
Screenshot courtesy of Tenrox.com
6. Clarizen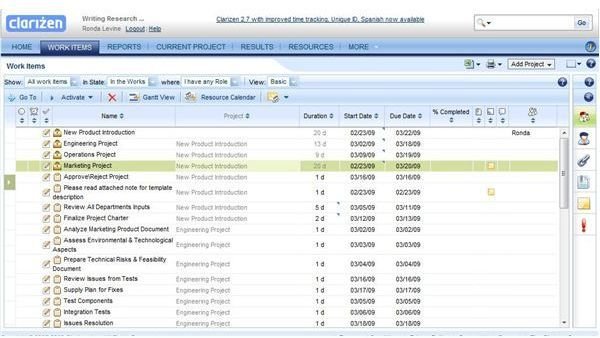 Clarizen is the sixth item on this list of the best simple PM software options. Clarizen allows project managers the ability to track tasks that have complex aspects, but to do this simply. If you need a project management program that also allows users to track time, keep an eye on the budget, and other such things, you should look no further than this outstanding software option. Clarizen has a project creation wizard that takes project managers step by step through creating a project. You can also work on deadlines with the others who are working on the project with you through the collaborative elements of this program. Clarizen will set you back $49.95/month for each license with discounts available for more licenses or a longer commitment.
Pros: Walk-through tutorials to help you get started with the program, price breaks for multiple licenses and longer commitments, and collaborative elements make this program a benefit to companies deciding to use it.
Cons: The price point makes it out of reach for most start-up businesses, and while the program is simple for those who are already technology savvy, it can be a bit daunting to those who are not.
Screenshot courtesy of Ronda Levine
Please continue reading on page 3 to learn about the final four best simple project management software options.
7. EasyProjects.NET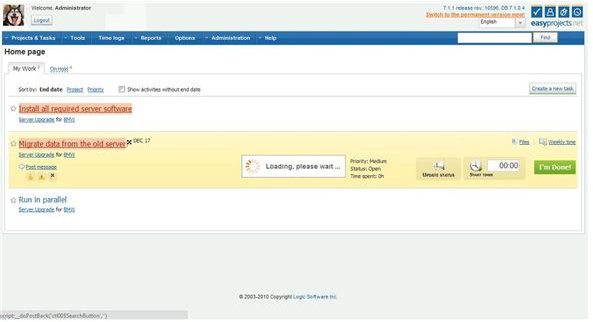 EasyProjects.NET is another all in one program that is delivered through a subscription on the Internet. The program promises that it is easy to use. With EasyProjects.NET, manage your projects, portfolio, tasks, requests, issues, time, resources, billing, and more. Use Gantt charts, collaborate, and import and export from other programs. EasyProjects.NET also integrates seamlessly with other programs including Quickbooks and SmarterTrack. There are several different options for those who are looking for project management software when it comes to EasyProjects.NET:
Free Version - One user, up to 100MB storage space - after the 15 day free trial the program reverts to this option automatically
Hosted for one user $24.99/month
Hosted for ten users $199/month
In-House (on your system) for one user $249 once
In-House for ten users $1885 once
It should be noted that subscription accounts do not have size limits.
Pros: The free version makes it an option for consultants and freelancers, all-in-one suite that keeps all of your information in one place, compatibility with other products, allows for multiple sub-tasks, lots of user-support options.
Cons: Can get very expensive very fast depending upon how many users you have.
Screenshot courtesy of Ronda Levine
8. Vertabase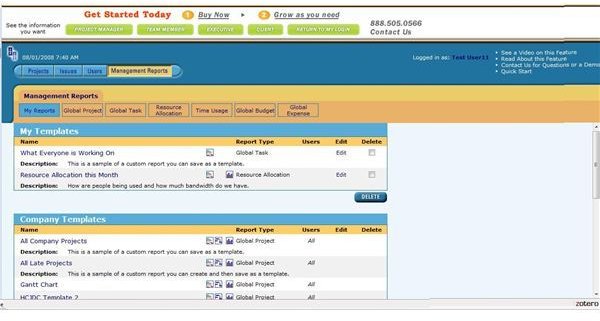 Vertabase is another software program that will allow you to simply manage projects with software. This program allows you to plan your project, schedule your project, track time associated with your project tasks, get notified via email of upcoming tasks, track issues, allocate resources, and utilize the program with other project management programs including MS Project. What makes Vertabase unique from comparable programs is that you can customize your reports, check documents in and out, and search a knowledge base for known issues with the software. Additionally, Vertabase offers four different options for purchasing their program:
Software as a service
Installed on your network
Nonprofit software as a service
Nonprofit installation on ColdFusion
Pricing is based upon your specific company needs, and current prices were not listed on the website at the time of this article.
Pros: Offers many features including budget tracking and time management, offers a different price for non-profit organizations needing project management software.
Cons: As with many of the all-in-one options, Vertabase may be overwhelming to companies that don't need such robust project management software.
Screenshot courtesy of Ronda Levine
9. SantexQ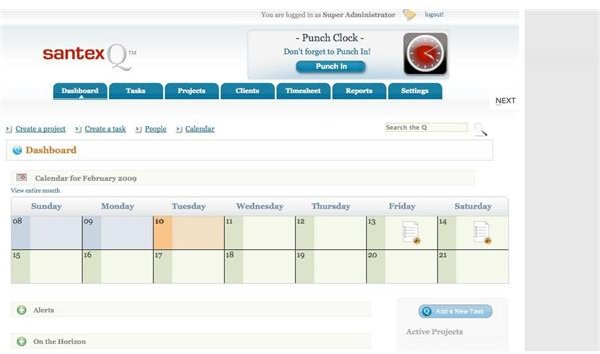 SantexQ allows everyone to get in on the project planning action by allowing administrators to create custom user roles for members of their teams. With SantexQ, you get the feel of an all-in-one suite, without the overwhelming nature of having so many features to manage. You can manage your projects, but you can also keep each individual up to date with their tasks, generate reports, and even create custom invoices for your company. You also can punch in and punch out using a timesheet clock to make the job of getting paid much easier. By using this feature, you'll know exactly how much time each person put into working on the project.
There are two pricing tiers for SantexQ:
The basic account is free and allows for one active user per project and one project per account
The premium account is $9.95 a month and gives you unlimited clients, users, invoices, and projects.
With such reasonable pricing, SantexQ is not just a simple software solution for project management, it's also a great option for freelancers and small businesses.
Pros: Inexpensive, offers more than just simple project management, go from getting things done to invoicing your client in one program.
Cons: May not be robust enough for large companies.
Screenshot courtesy of SantexQ.com
10. Basecamp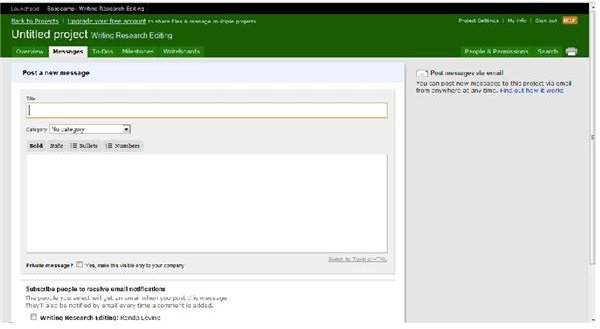 Rounding out the list, Basecamp is an outstanding software option for those requiring project management software that doesn't make them want to scream. This program is quite popular among not only companies as a great alternative to Microsoft projects, but also many entrepreneurs, small businesses, and freelancers use Basecamp software in their business dealings. Basecamp allows users to collaborate and communicate with one another, share files related to the project, assign responsibilities and due dates for projects, use and reuse templates, and comment on everything from to-dos to milestones. This facilitates the communication among team members and with stakeholders. Software subscription options include:
A basic plan with 15 projects and 5GB of storage for $24 a month
The plus plan with 35 projects, 15GB of storage and unlimited users for $49 a month
The premium plan with 100 projects, 30GB of storage, and unlimited users for $99 a month
The max plan with unlimited projects, 75GB of storage, and unlimited users for $149 a month
The free plan with one project and no file sharing
Basecamp also offers a free 30-day trial to anyone wishing to try out the software's capabilities.
Pros: The pricing tier allows for a variety of needs to be met, the program does a lot of different things, your project information is secure and backed up, Basecamp costs less than many comparable products.
Cons: Basecamp may not meet all needs a company has for project management since it focuses on collaboration and project management.