Comparison of Project Management Software: What Are the Best Programs for Your Business?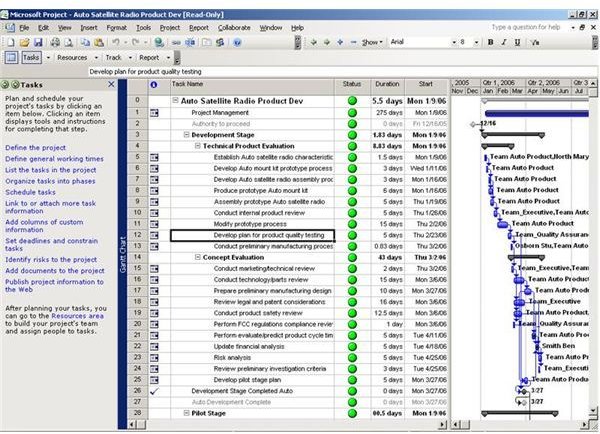 So Many Project Management Software Applications, So Little Time
There's a reason that a comparison of project management software programs is necessary: There is an increasing number of software applications that have come onto the market, but project managers still do not have a lot of time to test all the programs to figure out what program will work best for their company. Aside from that, setting up a test or trial run of software can be expensive time-wise. After all, to get a true sense of whether a program will work for you, you need to input project data and resources, and give it a trial run. While a comparison of project management software cannot answer all of your questions, it can save you time in determining which of the various programs will be best for you.
Microsoft Project, Open Workbench, and OpenProj
Microsoft Project, Open Workbench, and OpenProj are all comparable programs. Microsoft Project is one of the most widely-used project management software programs available. MS Project users have come to expect certain tools in the program: Gantt charts, resource leveling, and customization are among those tools. While all three of these programs are very similar in that they have similar features, but there are key
differences between these three programs, namely the following:
Microsoft Project
Proprietary software, $700

PDF Exporting

Much documentation available to improve the learning curve

The software is not dependent upon other software to run

You can use other Microsoft Office products with MS Project seamlessly

Duration-based scheduling

Manual or automatic schedule creation
Open Workbench
Open source software, Free
Effort-based scheduling
Schedule work on holidays
Manual schedule creation
Inter-task dependencies made easy
Easy resource replacements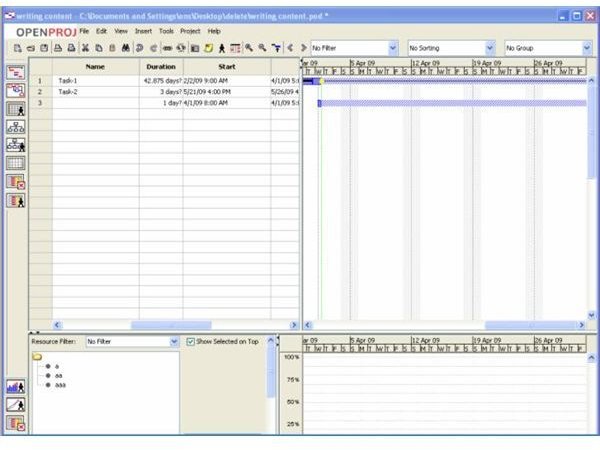 OpenProj
Open Source, Free
Works with MS Project files and MS Excel files
Runs on Java, so doesn't require Windows
Works with StarOffice 8 software suite
Works in a variety of languages including Russian, Persian, and Chinese
These three project management software programs are good for a company that wants to manage projects efficiently. Because MS Project is so widely used, then project managers wishing to use a program that is familiar will find any of these programs to be acceptable. Between MS Project and OpenProj and between Project and Open Workbench, there are not many differences. The lowdown is that if your company has the funds, MS Project is a great product. If you're looking for free software that focuses on effort-driven scheduling, then Open Workbench is your program. If you need project software that runs like MS Project but that works on any computer, OpenProj is the right choice.
Comparing Project Management Software Suites
There are many great project management software suites on the market. Among these software suites are TrackerSuite.Net, WebExOne, Moab Cluster Suite, and ZoHo Suite. Project management suites are different than just standard software in that project managers are able to track their projects, budgets, resources, time, and even keep track of documents and other project deliverables in one place. By opting to use a project management suite instead of software with a narrow focus, project managers can keep all their project-related items in one place.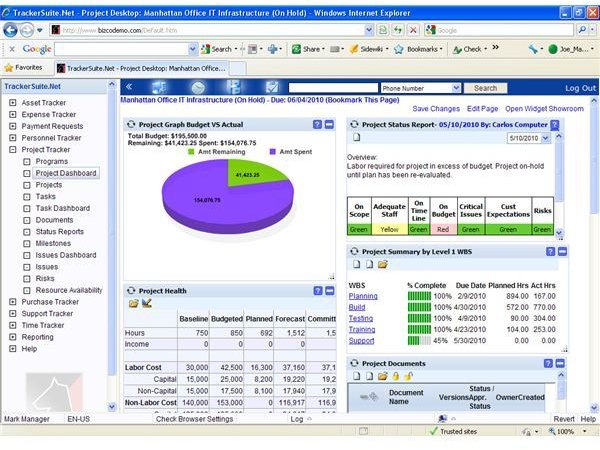 TrackerSuite
Subscription-based; quote based upon company size
Customizable
Easy to use
Budgeting
Compatible with mobile devices
Track time
Plan your budget
Plan and track Projects, IT, Human Resources, and Sales in one program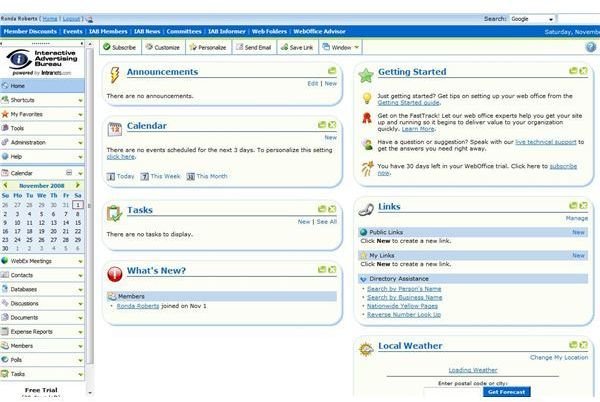 WebExOne
Delivered by subscription
Manage documents, spreadsheets, and databases
Track polls on opinions
Manage contact lists
Share calendars online
Delivered through the Internet
Manage tasks for yourself and your team members
Conduct Web meetings - this makes the program an outstanding choice for project teams with remote workers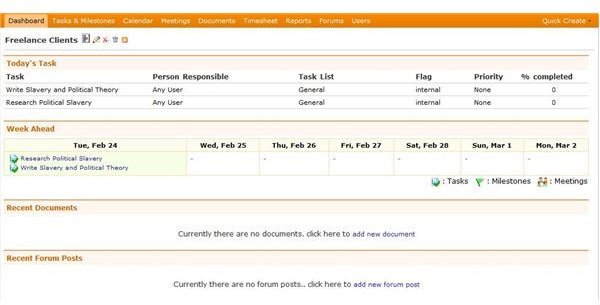 Moab Cluster Suite
Conditional planning tools
Integrate project planning with other capabilities
Interact with databases to integrate information from a variety of sources
Notify workers by e-mail as to what is going on in the project
Encrypt sensitive information
Scale projects to environments to accommodate small and large teams alike.
ZoHo Suite
Find applications for collaboration, budgeting, project management, productivity, and more
Subscribe to just the applications you need
On-Demand software
Deliver alerts in a multitude of ways including RSS feeds
Free for one project
Each of these suites have a different intended audience. ZoHo Suite is a great option for consultants and small companies. TrackerSuite.Net is intended for enterprises. When you want to test suite software, the best way of going about it is to contact the company. Many companies will be more than happy to give you a Web or on-site demo of their product.
For more project management software comparisons, please continue reading on page 2
Comparison of Project Management Software Delivered On Demand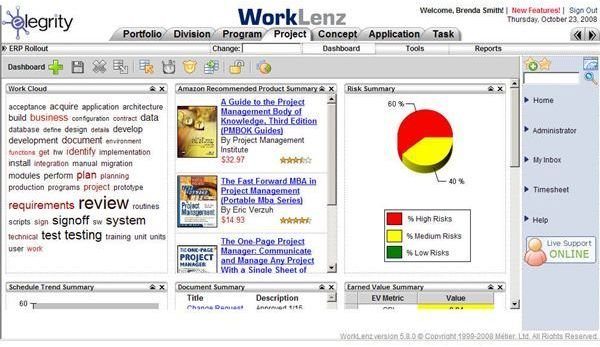 In a comparison of project management software delivered on demand, there are numerous options available. Among the best programs available on demand are WorkLenz, Central Desktop, Apollo, Ubidesk, and Celoxis. On-demand software allows users to use the project management program from any computer and offers a high level of security for data.
WorkLenz
Delivered On Demand through subscription
A learning application that helps project managers to predict problems
Reduce the consequences of risk
Receive predictions about where hiring may need to take place
Take advantage of key opportunities when they present themselves
Identify key areas where money can be saved as you work on your project planning tasks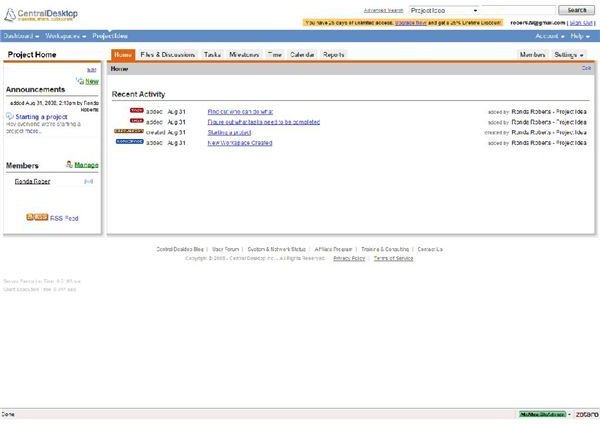 Central Desktop
Collaborate with others through the Internet
Create milestones and monitor progress on tasks
Store and search documents in Central Desktop
Control workflow quickly and easily
Integration with Microsoft Outlook
Instant messaging capabilities
Apollo
Add comments to tasks

Create milestones and calendar events

Keep files with the tasks they relate to

Group tasks to easily manage the to-do list

Track project and consumer tasks

Track clients and follow-ups with clients
Ubidesk
Subscription service

Forum discussions

Gantt Chart

Create task dependencies

Sort tasks by task status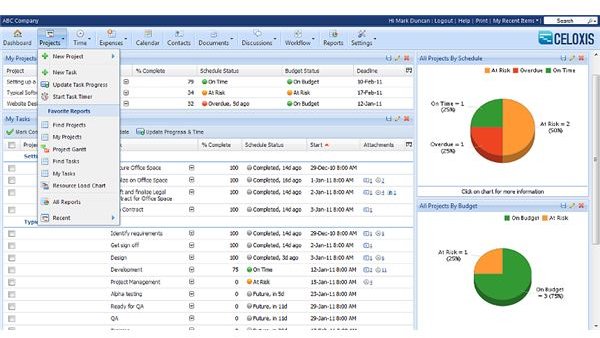 Celoxis
Plan your project in a familiar spreadsheet style
Create cross-project task dependencies
Manage risks and benefits
The ability to create a what-if analysis
Download events to iCal or your RSS feed
Customize fields
Create schedules for multiple time zones
One of the benefits of project management software delivered on demand is the ability to collaborate with others on your project planning efforts. While many of the features of these on-demand collaborative software programs seem similar, as can be seen from the above list, the features can differ widely. Central Desktop and Ubidesk are excellent choices for freelancers, consultants, and small businesses. Celoxis is a great option for mid-level businesses and software companies. WorkLenz is a great option for project management departments that need heavy-duty software that predicts possible problems.
When creating a comparison of the top project management software for your own use, there are many different software options. You can find online project management software, easy-to-use project management software, or even software dedicated specifically to scheduling your project.
References
Microsoft Project (Screenshot Courtesy of Ronda Roberts Levine) https://www.microsoft.com/project/en/us/default.aspx
Open Workbench (Screenshot Courtesy of Ronda Roberts Levine) https://sourceforge.net/projects/openworkbench/
Open Proj (Screenshot Courtesy of Suvo) https://www.openproj.org
TrackerSuite.Net (Screenshot Courtesy of TrackerSuite) https://trackersuite.net/
WebEx WebOffice (Screenshot Courtesy of Ronda Roberts Levine) https://www.weboffice.com
Moab Cluster Suite https://www.clusterresources.com
ZoHo Suite (Screenshot Courtesy of Ronda Roberts Levine) https://www.zoho.com
WorkLenz (Screenshot Courtesy of Ronda Roberts Levine) https://www.metier.com
Central Desktop (Screenshot Courtesy of Ronda Roberts Levine) https://www.centraldesktop.com/
Apollo (Screenshot Courtesy of Ronda Roberts Levine) https://www.apollohq.com/
Ubidesk https://www.ubidesk.com
Celoxis (Screenshot Courtesy of Celoxis) https://www.celoxis.com